Postsecondary culinary extravaganza
November 1, 2018
/
/
Comments Off

on Postsecondary culinary extravaganza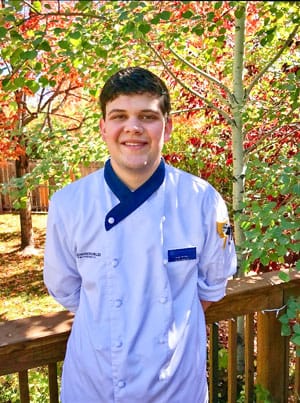 Noah Kelley, culinary student at Johnson & Wales University, a private college. Kelley is working part time as a chef at Legacy Village of Castle Pines.
By Catalin Varela, photos courtesy of Noah Kelley
Noah Kelley, a student at Johnson & Wales University (JWU), knew that his educational path was going to look different than the "norm" for many students. While in high school, Kelley came to the conclusion that working in a cubicle the rest of his life would not be fulfilling and thus he needed to get creative with his postsecondary adventures. After working at the Renaissance Festival in 2016, he realized how much he enjoyed working with food and interacting with guests. He then went on to apply and was accepted to JWU, a private, career-oriented university with a remarkable College of Culinary Arts. Kelley said he likes to work with his hands, create different dishes, and play with flavors…which is why he is so engaged and excited about his learning.
What does the life of a culinary arts student look like? Kelley reported that the very first task every week is to clean and iron all uniforms so as to look professional when working with the chefs. The class spends time checking food deliveries, setting up stations, and attending lectures from the chefs. JWU culinary students attend lectures on everything from sustainability, to global cuisine, to food allergen and sensitivity awareness. When asked about the latter, Kelley stated, "It's just not good business to not serve those people with specific diets."

Appetizer with hummus, homemade pretzels, mango salsa and grape leaves
Kelley was hard pressed to pick a favorite kind of cuisine, but says that right now he is enjoying experimenting with the spicy flavors of South American food. He loves making many seafood dishes for his Pescatarian family, and said that his all-time favorite thing to make is marinara sauce. I was baffled because this seems like a very simple food, but Kelley informed me that "the simplicity is what makes it possible to focus on each ingredient and fine tune the recipe."
The class sizes are small and feel like such a welcoming and friendly community. There are so many job opportunities for Kelley and he is beyond excited to explore them all. He stated that eventually he'd like to open his own restaurant. I, for one, can't wait to be one of Kelley's first guests!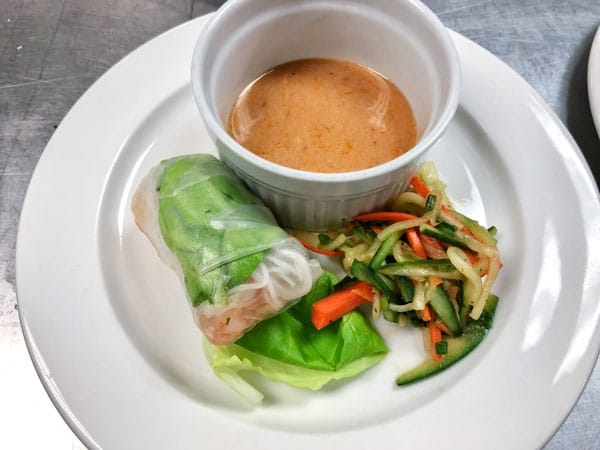 Delicious spring roll with miso soup and grilled vegetables.