Practice water safety: always check the water first!
June 1, 2017
/
/
Comments Off

on Practice water safety: always check the water first!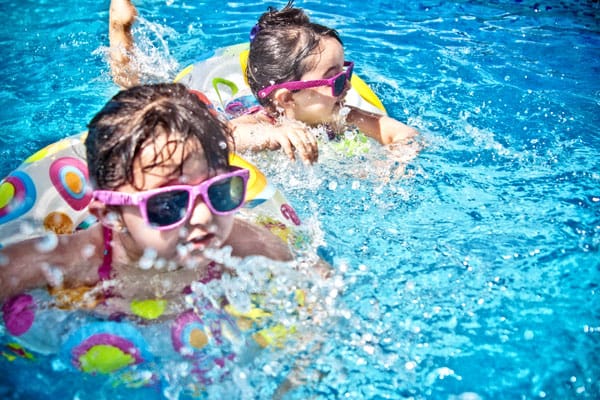 Swim time can be a fun, all-day activity when adhering to water safety rules. Always make sure children are supervised by an adult when around water.
Information provided by South Metro Fire Rescue (SMFR) and the American Red Cross
Summer is here and families are headed out to the pool, the lake, and the backyard play pool for a fun day of splashing and swimming. In the evening, after a long day of work, many adults relax in a hot tub. Be aware that along with the fun and relaxation comes responsibility and swim safety awareness.
Moments can mean life or death in a drowning incident. South Metro Fire Rescue Authority (SMFR) emphasizes that if anyone is missing, ALWAYS CHECK THE WATER FIRST. Know where safety equipment is near any pool, including a rescue pole or life preserver and a telephone. Learn CPR and water rescue procedures.
The American Red Cross stresses the importance of everyone in a family learning how to swim. Never leave a young child unattended near water nor trust a child's life to another child.

It is essential that families establish water safety rules and enforce them. Some of the most important rules are "nobody swims alone" and "everyone wears flotation devices when boating … everyone!" Instruct young children to never go near any water without an adult.
For adults, a sober supervisor/parent is as important around the water as a designated driver in a car. Alcohol and swimming do not mix. Alcohol is a contributing factor in as many as 50 percent of adolescent and adult water deaths. SMFR has been called to a few scenes where alcohol was responsible for adults drowning in a hot tub.
Make sure home pools have self-closing, self-latching gates as part of four-foot high fencing. Install motor-powered safety covers on pools and install a pool alarm with a remote receiver so the alarm may be heard from inside the house. Store floats and pool toys away from the water so they will not attract children to the water's edge. Be sure to have a qualified professional inspect the drain suction fittings and covers on your pool and spa to be sure that they meet current safety standards. For above-ground pools, remove access ladders or steps when the pool is not in use.
The South Metro Safety Foundation offers CPR, first aid and life safety classes throughout the year geared for youth and adults. For more information, visit www.southmetrofoundation.org.
If you have questions or concerns about water safety, contact SMFR at 720-989-2000, www.southmetro.org or email at info@southmetro.org. For information provided by the American Red Cross, visit www.redcross.org.