RCHS tennis serves up an amazing season
June 1, 2017
/
/
Comments Off

on RCHS tennis serves up an amazing season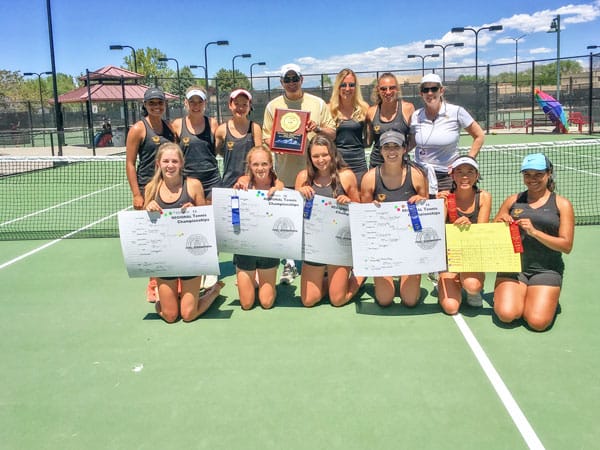 The RCHS girls varsity tennis team after winning their region and advancing nine of 11 girls to the state championships, the first time in the school's history.

By Lisa Nicklanovich; photo courtesy of Stacie Chadwick
The girls varsity tennis team at Rock Canyon High School (RCHS) won their region and advanced nine of 11 girls to the state championships. This is the first time in RCHS history that any boys or girls team has won their region in tennis. To have so many players advance to state shows the great leaps the girls tennis program has made.
The regional tournament took place in Grand Junction in early May and had very strong competition. All players arrived to the courts as a team each morning to warm up and stayed for each others' matches, cheering each other on and supporting their teammates. There was a true team spirit and feeling of support and commitment between these girls.
The team had an 8-2 record this season, which is especially impressive considering 6 of the 11 varsity players are freshman, and one is a sophomore. This young talent, combined with strong senior leadership and coaching by Glauco Nascimento helped the team in its quest to compete in the state championship. Grace Chadwick, freshman at RCHS and Castle Pines Village resident said, "I love learning new techniques and strategies at every practice and how close we've become as a team. Everyone on the team is so nice and has become like family to me."
The 5A state championships took place May 11-13 at Gates Tennis Center in Denver. Four seniors, one sophomore, and four freshman represented RCHS and battled extremely strong competition from the state. The number 1 doubles team of Jackie Bodwin and Erin Daniel, senior at RCHS and Castle Pines resident, advanced to the quarter-finals, and the number 2 doubles team Jen Gallagher and Grace Chadwick, advanced to the semi-finals. The number 4 doubles team of Hanna Foster and Allison Meyer of Castle Pines advanced to the second round. For full results, visit www.rchsjags.com. Chadwick stated, "It was really fun to represent Rock Canyon at the most competitive high school tournament in the state and it was great practice to play under pressure for my team."
Coach Glauco Nascimento said, "The belief and the will to win was bigger than our fears. Breakthrough comes when together coach and players pull these two out of their hearts."