September 1, 2019
/
/
Comments Off

on Prehistoric Adventures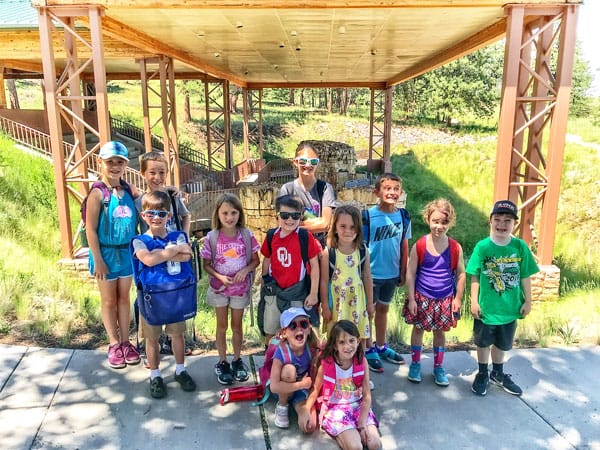 Standing next to a massive petrified tree stump was cool for these campers, but learning how the tree stump became petrified was remarkable.


By Julie Matuszewski; photos courtesy of DCSM
DCS Montessori (DCSM) students enjoyed one last summer adventure before they turned in their hiking boots and binoculars for books and homework. Fourteen first through fifth graders enjoyed five days learning and exploring the prehistoric world during their dinosaur adventure camp.
The Colorado dinosaur is the Stegosaurus so it was fitting that the camp focused mostly on the Stegosaurus finding that each site visited had different but exciting facts to offer. The camp adventures began at Dinosaur Ridge, which led the path for these young paleontologists. More than 300 amazing dinosaur tracks were explored revealing some of Colorado's first dinosaurs – the Stegosaurus, Apatosaurus and Allosaurus.
While digging in the backyard bones at Dinosaur Ridge, our young paleontologists learned to search for fossil evidence, interpret the evidence, and identify the dinosaur from the bones. They uncovered bones and evidence of a Hadrosauridae that had been attacked by a Tyrannosaurus. The adventure didn't stop with the digging. The Denver Museum of Nature & Science provided opportunity for the campers to look closely at North America's Late Cretaceous, including dinosaurs, pterosaurs, marine reptiles and fish. Shifting gears these young paleontologists became junior rangers to explore Colorado's tropical rain forest better known as the Florissant Fossil Beds.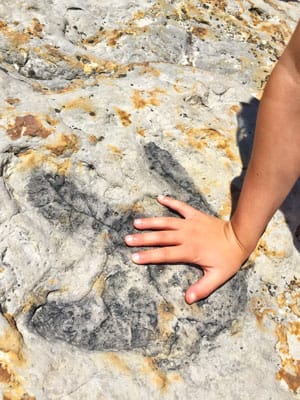 Adeline Razem of Castle Pines compared her hand to that of a large Ornithomimus footprint.

After all of the hiking and digging, campers cooled off in Cherry Creek while visiting Castlewood Canyon. Although they were not successful in finding any fossils, the campers did enjoy the geologic layers of Castle Rock and the Dawson formation. DCSM alumni Connor Jones was camp counselor and fossil expert. Jones enjoyed sharing his knowledge and passion for fossils and the prehistoric world with DCSM students. Jones said their curiosity and intrigue was so rewarding it reminded him of when he was a young Montessori explorer, inspired for life!
Inspired for life and inspired to climb the junior ropes course, the campers ended their final day of camp at the Royal Gorge Dinosaur Experience. After taking a walk on the wild side with 16 different life-sized dinosaurs it was time for these campers to get wild. Traversing the T-Rex Terror Ropes Course climbers went face-to-face with both an 80-foot long Diplodocus and the mighty roaring T-Rex. Memories sure to last a lifetime!