September 1, 2018
/
/
Comments Off

on Raised for Rugby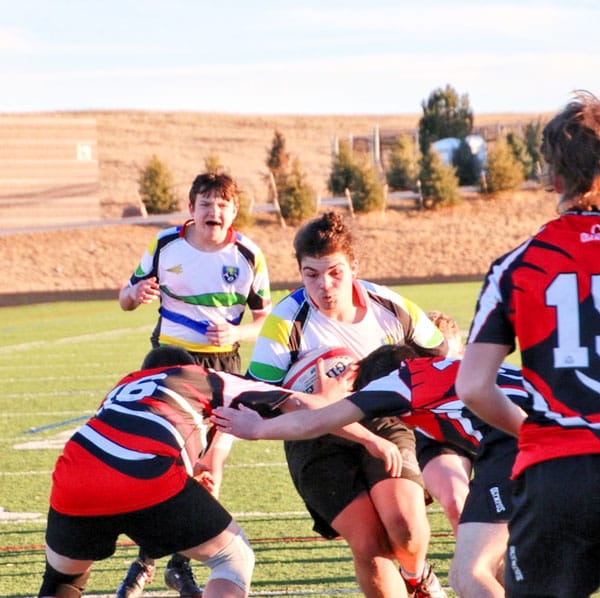 Aron Bukary, RCHS student, running the ball during a rugby match for the Ranch Rugby program.
By Alec Sutula, RCHS intern writer; photos courtesy of Aron Bukary
Rugby can arguably be described as one of the most violent sports besides hockey or football. Hockey and football players, however, wear protective gear – from shoulder pads to helmets. Rugby players can sometimes only be equipped with a mouth guard and a scrum cap. Rugby is predominantly a sport played in Europe and in the South Eastern Pacific, however, it is the fastest growing sport in the U.S. For the time being, a few high schools in the area have combined to form a team called Ranch Rugby.
Castle Pines resident and Rock Canyon high school (RCHS) senior Taylor Thomas has been a part of the rugby team since his freshman year of high school and he has learned multiple life lessons from the hard-knock sport. "One of the things I've learned is respect. I am not saying I did not have respect for people before, but while playing rugby you are held to a high standard to respect your team, your opponents, and the referees," Thomas said.
Fellow teammate and RCHS student Aron Bukary chimed in on how rugby has taught him valuable life lessons as well. "One of the best lessons rugby has taught me is to never underestimate your opponent; they can surprise you when you get complacent," Bukary said.
Thomas recently sustained a season-ending injury, tearing the ACL in his knee, which caused him to miss the 2018 season. "I am very excited to come back from this injury. It's been a tedious and grueling recovery through lots of physical therapy and long rides on the exercise bike." Thomas said.
Having a few friends who play on the rugby team, I get to see first-hand the pain they are forced to go through. They hit each other without pads on and are constantly running, but that doesn't stop RCHS senior Alex Becerra from enjoying the sport. "Rugby is a very physical sport and you have to be both physically and mentally strong to handle the tough situations," Becerra stated.
A womens rugby team is forming and Gabrielle Bukary, a RCHS freshman and Aron's sister, is ready. "I am excited to join an all-girls rugby team, for all of us on the team to bond and become one big family and push each other to be the best we can be," Gabrielle said.
For more information, visit www.ranchrugby.org.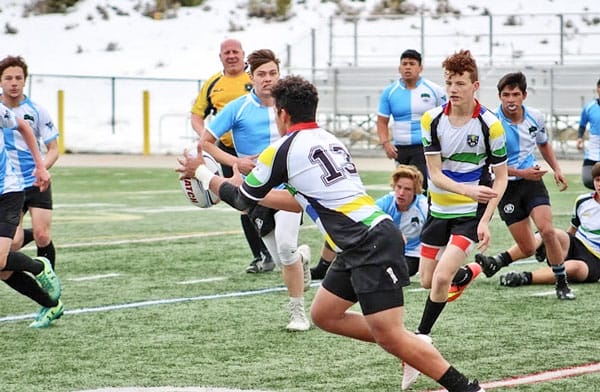 Alex Becerra, RCHS senior, catches the ball during a Ranch Rugby match.