RCHS students rock placement at FBLA conference
June 1, 2013
/
/
Comments Off

on RCHS students rock placement at FBLA conference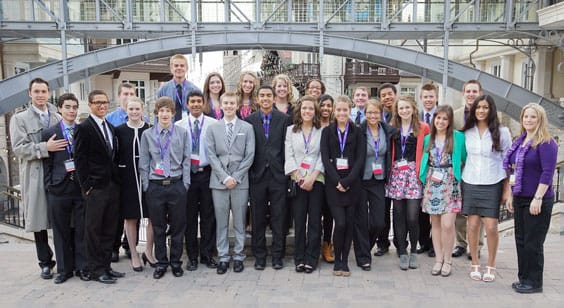 All the RCHS students who attended the FBLA conference in Vail, pictured above, placed in the top five percent.
By Lisa Nicklanovich; photo courtesy of Janna Robinett
If you happened to be in Vail the weekend of April 13 and 14, you would have seen more than 2,000 high school students from all over Colorado bustling from meetings to presentations dressed in business attire.
The students from Rock Canyon high school (RCHS) that attended the Future Business Leaders of America (FBLA) conference took part in tests, projects, presentations and role playing on many different subjects in business, but they all had one thing in common: All the students placed in the top five percent.
Janna Robinett, business teacher at RCHS and FBLA advisor, said, "I'm extremely proud of this group. It's the first time in nine years we've had everyone qualify in the top five percent. It's an amazing feat, since many of the competitions involve first passing a test, then taking the stage. Our students did a wonderful job representing RCHS."
Joe and Lin Giampietro of The Garlic Knot provided food all three days so the students could focus on preparing for their presentations.
Teams in Management Decision Making, Digital Video Production and Network Design all qualified for the National FBLA conference that will take place June 26 – July 1 in Anaheim, CA. The Management Decision Making team — Megan Stack, Katie Ross and Sarah Rosenkrans, and the Digital Video Production team — Jessica Hastings, Anne Marchall and Luke Zahorik, both earned first place.
Derrick Trotman, along with Kyle Broyer and Meagan Stack, brought home a Peak 5 award, the highest recognition given to an FBLA chapter. Trotman said, "It was a lot of work, I'm not going to lie. So, it was great to receive the award and know all our hard work paid off." The requirements to enter the competition would intimidate anyone, with thirty-eight separate projects, from recruiting new members to documenting twenty-five hours of community service.
Interest in business at RCHS has soared and Robinett is launching a High School of Business program that allows students to receive college credits upon completion of a six-course program. Two courses are offered now and four more will be added over the next two years.
Tom Harrison, a senior, said, "In the Principles of Business class, we talked to business people launching and running businesses and got to learn what it's like. What we're learning applies to what they do day-to-day." Robinette said the six course project-based program culminates in the students building a real business, including going to the bank to apply for a loan. The High School of Business is looking to build connections with our community in all areas of business.
For more information about the program, contact Karen Brankin, volunteer coordinator at RCHS, karen.brankin@dcsdk12.org.