RCHS Volleyball has record setting journey to state
December 1, 2016
/
/
Comments Off

on RCHS Volleyball has record setting journey to state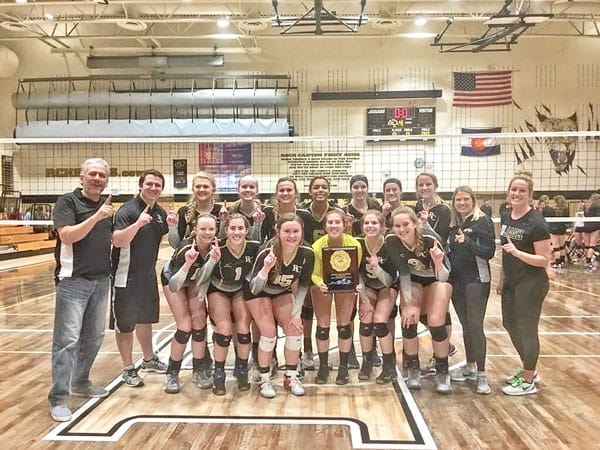 Pictured right: The RCHS varsity volleyball team presents its first place regionals plaque to the camera after advancing to state competitions. (Photo courtesy of Chris Zadra.)


By Riley Busch, RCHS intern writer; courtesy photos
Last month, the Rock Canyon High School (RCHS) girls varsity volleyball team closed its season with a successful and record-setting journey to state. In the wake of a first place victory in the continental league regional competition, the girls were guaranteed the opportunity to perform in state quarterfinals on November 11-12 at the Denver Coliseum.

After several hard fought matches against some of the top teams in the state of Colorado, the RCHS varsity team placed third in the final state rankings. Their victory further served to ingrain a sense of pride into the community, as well as RCHS, the school these girls have worked so hard to represent.

The 2016 volleyball season proved very successful for all branches of the program. Both varsity and junior varsity teams played near perfect seasons, remaining undefeated for the majority of the season.

After winning the top spot in the continental league competition 10-0, a first for the RCHS volleyball program, the Jaguar varsity team advanced to state quarterfinals, where they were given a chance to try their hand against a wide variety of schools.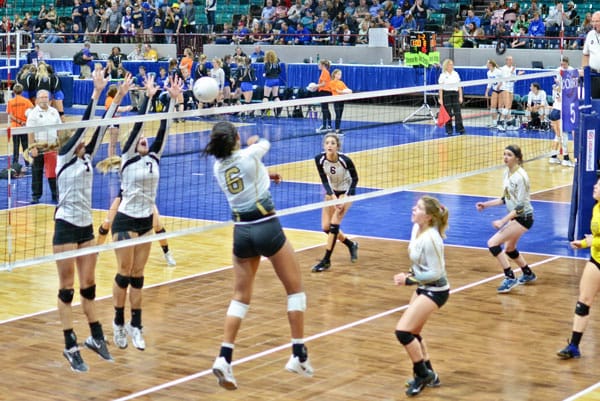 Hidden Pointe resident and state tournament player of the year Keely Davis (#6) scores cross-court at the state championships. (Photo courtesy of Maddy Metcalf.)

When asked about advancing to state, Maddy Metcalf, varsity player and RCHS student, stated, "We kept that idea in mind all season. We practiced hard and just believed we had the talent to win." The girls quickly advanced to semifinals, where they won their third place ranking after several challenging matches. On the day of their playoff match against Mountain Vista High School, the "Canyon Crazies" rallied to support their fellow Jags, bringing many bright signs and words of encouragement to the stands.

Despite their loss at semifinals, the many parents, coaches and community supporters remain extremely proud of their efforts and record-setting program accomplishments. When asked about the team's season, Harley Freeseman, RCHS varsity senior and Castle Pines resident, exclaimed, "Our season was very successful! It was quite the journey. We had to battle against hard teams but it was fun being able to play with my best friends." Congratulations on a spectacular season, Jags!