Recent rains augment Rueter-Hess Reservoir
November 1, 2013
/
/
Comments Off

on Recent rains augment Rueter-Hess Reservoir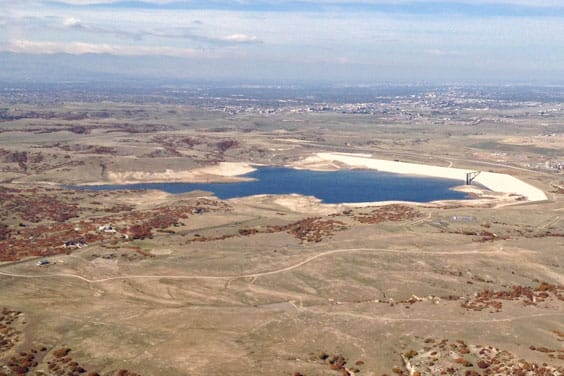 An aerial photograph of Rueter-Hess Reservoir captured on October 16 shows a slight increase in the water level from previous months.
By Steve Baska; photo courtesy of Keith Craw
Rueter-Hess Reservoir, located east of I-25 and Castle Pines Parkway, filled with enough water from recent heavy rains to provide water to 500 homes for a year said Ron Redd, district manager of Parker Water and Sanitation District (PWSD), which manages the reservoir.
Although the heaviest rains were farther north, there was substantial water flow into Cherry Creek and Newlin Gulch, the two main sources that flow into the reservoir. Those flows raised the water level from about 6,400 acre feet to 6,700 acre feet in Rueter-Hess.
The reservoir, which just began accepting water in March 2012, can hold 72,000 acre feet, so it is a long way from being full. It will take many years to fill, and the levels will often be rising and lowering as water is being drawn by its
customers.
"It will slowly build over time. By 2015, for example, we expect to have between 15,000 and 20,000 acre feet," Redd said.
The Castle Pines North Metropolitan District purchased water storage rights in the reservoir in 2008, and Rueter-Hess is a possible future source of water for the district if water pipelines are built.
A recreational use plan for the reservoir is also being developed and will likely include hiking and biking trails, fishing, and non-motorized boating, such as canoe usage. Because the primary purpose of the reservoir is drinking water storage, motorized boating cannot safely be allowed due to possible contamination by boat fuel chemicals and small mollusks called Zebra Mussels, which attach to hard surfaces and are known to clog water pipes and water transport structures. There is no timeline yet for when that recreation may start, and it was in no way expedited by the recent rains.
The PWSD hopes to present the recreation plan to the city councils of Castle Rock, Castle Pines and Parker in coming months so interest can be raised to form a new Rueter-Hess recreation board that will guide development and funding of the recreation plan.
Redd said the costs will likely be low to develop the 17 miles of planned trails for hikers and bicycling, but a board will be important to help in developing a plan for operational costs such as employing rangers on-site and conducting boating operations.
For more information about Rueter-Hess Reservoir, visit www.pwsd.org.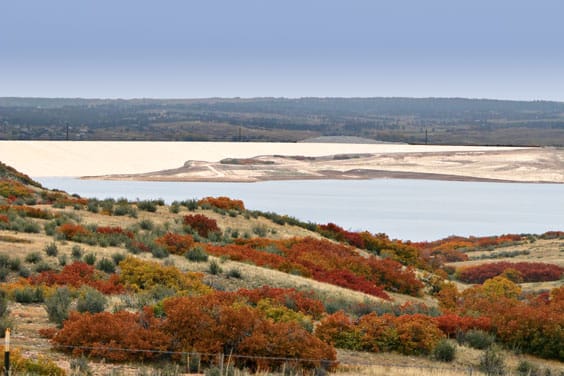 photo by Steve Baska