Recruit your own"governators"
February 1, 2011
/
/
Comments Off

on Recruit your own"governators"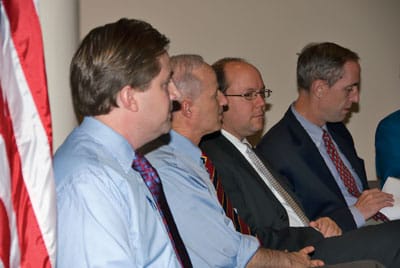 Candidate Forum – Castle Pines – July 22, 2008
by Joe Gschwendtner
Arnold Schwarzenegger recently proved a good "terminator" does not necessarily make a good "governator." Much admired by many Americans, polls indicate he is seen as having failed California.
I've been involved in governance for 30 years. To be fairly governed requires electing good, decent, public-spirited people. But the job begins with recruitment. GIGO (good in, good out) applies to politics as well as computers.
Who seeks a leadership position? Many are of the right stuff; those who truly wish to give back, to help or improve the status quo, and who seek no personal gain. Folks of this ilk are around, but most have to be recruited. They are not in the business of seeking power and privilege, as they are abundantly endowed with selflessness. Often times, getting them to put their names in any hat is like tugging the proverbial mule out of the barn.
Some just bubble up. They have more extreme motives: power, privilege, financial gain, public recognition, and agendas which are not always clear. This genre is often difficult to discern, but they often wind up in power due to proximity to an organization in its early history. Think developers, founders, salespeople, businessmen and women, researchers, academics – dynamic and driven people who wish to influence. Do not construe these types as negatives. Just understand their motivation in the context of the position available and what results might be delivered.
Finally, there are those who want to be involved, to play a role in a meaningful organization. Some are well-intentioned and can grow into the position. Others have an agenda, although we (and even they) are seldom aware of what it is. Some are process-driven, anxious to be in the middle of something. These individuals may turn out to be catalysts which can slow down and limit the dynamics of an organization. Among this category, secret agendas are as common as no agendas.
While each type offers a different dynamic to an organization, each can be equally problematic and capable of burning an organization out internally.
The key to successful, sustaining organizations is a succession plan. A good one includes a deliberate effort to recruit capable people (qualified, public-spirited, and virtually selfless) for governing positions. There is a very strong case for leaders to backfill themselves before the electorate finds itself in a default position, having to make a decision with little selection from which to choose.
Think about it! Before the next election, get involved in recruiting the right people. Whether it be local politics, special districts, or even homes association boards. Encourage trusted neighbors, friends and colleagues to begin considering what his or her talents may be and how those gifts can best be utilized to serve in the Castle Pines community, Douglas County, and even our great state. It's a way of ensuring a more certain future for you and your children.