Snow fun has begun in the Castle Pines community!
February 1, 2011
/
/
Comments Off

on Snow fun has begun in the Castle Pines community!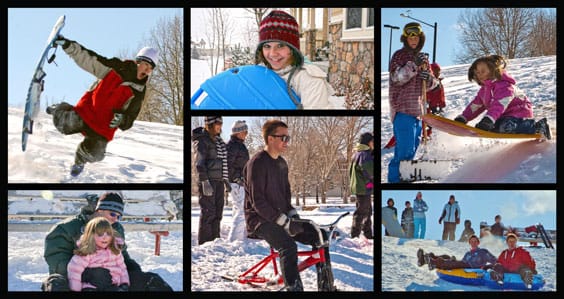 While many across the country find themselves indoors with a cup of hot chocolate near a fireplace when the snow hits big, we here in Colorado head to the hills. Whether it is skiing, tubing, snow boarding, sledding or just playing in the snow, the Castle Pines community makes the most of the winter fun.
Article by Kathy Dunker with photos submitted from residents in the community
With the official onset of winter came the first big snow, and Douglas County School District's "snow day" on January 10. Adventurers in the Castle Pines community got flaky and frosty as they headed outdoors for some quality time with Old Man Winter, in spite of the very frigid temperature of 15 degrees.
As plows drudged through the snow-covered streets, families pulled out their snow blowers and shovels and got busy. They cleared driveways and sidewalks, built snowmen, and dusted off their favorite sledding devices to celebrate the occasion on any bit of open space available.
The big sledding hill on Castle Pines Parkway and Monarch Boulevard in the City of Castle Pines was a very popular destination for many a thrill seeker. Residents and surrounding neighbors trekked in with sleds, tubes, discs, snow bikes, snowboards and, believe it or not, skis! Parents, kids, and even dogs raced downhill while sitting up, standing up, spinning around, going backwards, and sailing through mid air as they shot off berms and man-made jumps.
Perhaps these crazed snow lovers should keep in mind a few safety tips while gallivanting hillside? With the Castle Pines Parkway hill, as an example, sledding enthusiasts have some positive features that lend toward sledding safety. The long, relatively flat area at the bottom of the hill allows riders to glide to a stop, and there is no access to vehicular traffic from the bottom. Aside from the scrub oak and the icy stream at the base (ouch and burr!), the top of the hill is probably what deserves more attention.
It is common to see frenzied families with sleds and kids in tow darting across Castle Pines Parkway after securing a parking spot on nearby Shoreham Drive. Although there is a sidewalk and crosswalk available at the Castle Pines Parkway and Monarch Boulevard intersection, jaywalkers often chance it and traverse mid- parkway just to save a minute or two.
City of Castle Pines Public Works Director Eric Guth had this to comment: "We are always concerned about the safety and welfare of the users. No parking is allowed on the arterial or collector roads." Translation being … don't park on Castle Pines Parkway or Monarch Boulevard unless you want to be cited or towed.
According to Guth, the sledding hill land is actually owned and maintained by the Castle Pines North Metropolitan District, but the street maintenance is managed by the city with traffic enforcement conducted by the Douglas County Sheriff's Office. Parking is legal on nearby residential streets, including Shoreham Drive and Tangleoak Lane.
Guth went on to say, "We would like to encourage residents to park at The Retreat Park parking lot, since it's a designated parking area and is also on the correct side of the road."
It is best to keep safety priority one when playing in the snow, and residents are encouraged to review a few safety tips before venturing out. Go to www.CastlePinesConnection.com and read "Snow-filled fun" on the home page.
Last, but far from least, have fun! Family fun in the snow has been a Colorado tradition for generations. If sledding down hills is not your thing, find fun ways to play in the snow with family and friends a bit closer to home, like the Meisner family did in their backyard in Winterberry.