Residents raise money for library in Castle Pines
June 1, 2009
/
/
Comments Off

on Residents raise money for library in Castle Pines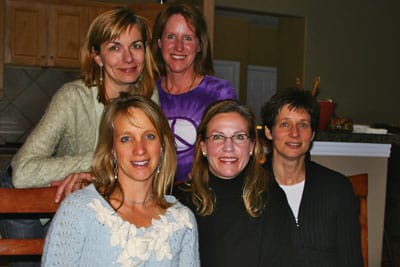 Girlfriends celebrate a birthday and give to the library fund. Front row – Sally Wagner, Sheri Powner, Sandy Koerner Back row – June Uralli, Kelly Durie.


by Carin R. Kirkegaard
With the approval from the Library Board for lease negotiations to begin, the dream of a library in Castle Pines North (CPN) is starting to become a reality and community neighbors and local groups are chipping in to help raise the needed funds.
Taking a page from her friends, CPN resident Sandy Koerner decided that instead of receiving gifts bought from the store for her annual girlfriend birthday party, she would rather have the money go towards the library fund.
"I was inspired by many of my friends, where the trend has been to give to a cause rather than filling your house with more needless clutter," commented Koerner on her decision.
The fact that the closest full use library for CPN residents is either in Lone Tree or Castle Rock played a large part in Koerner choosing her cause.
"Having a library in the neighborhood would bring a better quality of life. In the summer, kids can get on their bikes and ride to the library, but it isn't just books, libraries can become so much more. Whether it's providing meeting rooms or displaying artwork, the library can bring the community together," continued Koerner.
On June 20 CPN Girl Scout troops will also be raising money for the library at the dual swim meet between the two CPN swim teams, the Castle Crocs and the Storm. Spearheaded by troop co-leaders Tara McMahon and Susan Peiffer, the girl scouts will be holding a traditional bake sale with all proceeds going directly to the library fund.
"We were so disappointed when the library didn't pass last November and now that there is a possibility that we may still get a library in the neighborhood, we wanted to do something to help," said Tara McMahon, troop 497 co-leader and Castle Crocs parent. "The swim meet between the kids in the neighborhood seemed like the ideal place to let CPN residents show their support for both the kids in the community as well as our library," McMahon continued.
The swim meet will be held at the HOA2 swimming pool located off of Oxford in the Kings Crossing subdivision. The meet will run from 8 a.m. until 1 p.m. To find out more or to volunteer to help the girl scouts contact McMahon at Contact by e-mail .
The Castle Pines Connection would love to hear about the efforts of local citizens and what is being done to help support the library. Please send stories to Contact by e-mail .