One mother's journey to honor her daughter
June 1, 2009
/
/
Comments Off

on One mother's journey to honor her daughter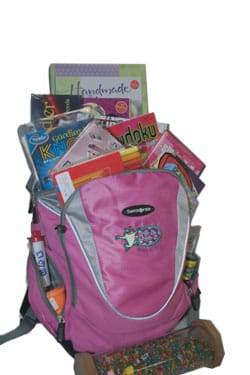 by Anthonette Klinkerman
Tammy Krause is surrounded by Samsonite backpacks. They are all filled with gender-specific kids games, electronics, and goodies, and ready for distribution to children undergoing pediatric cancer treatments at area hospitals from Denver to Colorado Springs.
Pediatric cancer took the life of her five year old, Gabby, in 2004. The backpacks were actually Gabby's idea as she ventured in and out of hospitals during her battle. She carried with her a "Bag of Fun", and as children do, innocently asked one day why all children in the hospital didn't have one. The idea was born.
This year marks the fifth anniversary of the annual "Bags of Fun" fund raiser in honor of the life of Gabby Krause. Tammy has seen the event grow, and is thrilled with its progression. "The bags let the parents know that someone else understands. They are not in it alone," she said.
Born in Denver, Tammy Krause and her family have been Castle Pines North residents for three and a half years. Her daughter Gabby was diagnosed with brain cancer days before her fifth birthday. Tammy formed The Gabby Krause Foundation in honor of her daughter.
Tammy has received lots of help, including volunteers, and support from the community to coordinate the fund raisers since. This year, the event outgrew its previous location and will be held at Wings Over the Rockies in Lowry on June 6. The family event will include games and face-painting, food and drinks, as well as a concert by the 80s cover band "Blessid Union of Souls." Tickets for families are $150. There will also be a silent auction of donated gifts.
Sponsorship of the bags can be done by any one individual buying an item for as little as $10, or by corporations sponsoring the entire bag for $350. Krause calls it the "Grip it and Gift It" program, and appreciates the opportunity for people to get involved at whatever level they choose. She is anticipating a strong turnout for the event.
For more information, please call 720-221-3894, or visit the web site at www.bagsoffun.org.