Residents Turn Out in Force for First Candidate Forum
January 1, 2008
/
/
Comments Off

on Residents Turn Out in Force for First Candidate Forum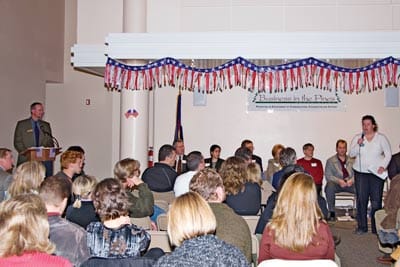 by Lisa Crockett
It was a full house at the Community Center for the first of three community forums for city government candidates held Tuesday night. The forum was hosted by Business in the Pines (BIP), a coalition of businesses in Castle Pines North (CPN) and surrounding areas. The forum was moderated by Paul Arvidson, BIP chief executive officer, and Dan Cook, BIP treasurer.
After a brief opening statement, at large candidates and city council Ward 1 candidates were asked about their top priorities for the new city. Candidates for city council were then asked for their views and ideas from five key areas including: water, city start up, economic growth and development, traffic and safety, and public recreation and amenities.
The questions were crafted from the five key areas and were tailored for Ward 1 candidates. The candidates were asked questions that were related to strengths of the new city, the development of Lagae Ranch, water acquisition and Metro District relations, the roles of HOAs in the new city, safety alternatives for the sledding hill, and ways to grow the business district in CPN.
Following those questions, a "Q&A" session was held to allow residents to pose questions to the candidates. Resident questions centered on consensus building, whether or not candidates wanted to dissolve the Metro District (all candidates unanimously opposed dissolution of the Metro District) and property taxes in Hidden Pointe.
To obtain a list of emails for candidates in Ward 1, please send a request to Contact by email.
The candidate forum for Ward 2 is scheduled for Wednesday, January 30. The candidate forum for Ward 3 is scheduled for Wednesday, February 6. Both forums are set for 7 p.m. at the CPN Community Center, 7404 Yorkshire Drive.