Residents Voice Concerns About Power Poles to Xcel
January 1, 2008
/
/
Comments Off

on Residents Voice Concerns About Power Poles to Xcel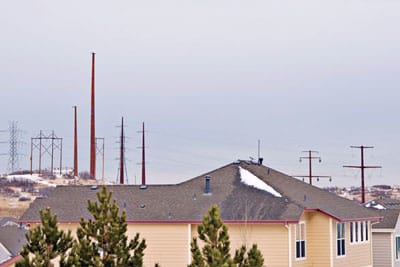 The 180-foot crossover power pole recently installed by Xcel north of Coyote Ridge Park has created a stir among residents. Views from homes miles from the power line corridor have been impacted by this new pole. (photo by Tim Gamble)
by Lane Roberts
The newly installed 180-foot pole north of Coyote Ridge Park has created quite a stir among Castle Pines North (CPN) residents.
In fact, many residents who do not live along the Xcel Energy power line corridor have expressed concerns regarding distorted views and the overall impact to the community with the installation of the new crossover pole that connects to the Daniel's Gate substation.
On Tuesday, January 15, more than 75 residents attended a public forum hosted by Xcel Energy. The meeting was held at the request of CPN representatives who met with officials from Xcel Energy in December, 2007, to communicate resident concerns.
Prior to the January 15 meeting, Xcel announced to the CPN representatives that they had reviewed the impact of the 180-foot pole and were ready to present an alternative to the community.
Xcel's Principle Agent of Sitting and Land Rights Anne MacRae began the meeting and explained the plan to remove the 180-foot pole in question, and replace it with a shorter 110-foot pole. The second largest pole, which is 165 feet (positioned furthest to the west), will also be removed.
According to Xcel, the 180-foot pole will come down sometime this summer. "Our goal is to install the lower pole around May, but we cannot guarantee it will be installed until the fall," said Danny Pearson, engineer for Xcel and project manager of the CPN power line corridor upgrade.
As the meeting continued, Xcel was faced with dozens of challenging questions from residents regarding the power line corridor and upgrades planned for the Daniel's Gate substation. Many questions regarding safety, noise pollution, burying the lines, and the upgrades planned for the Waterton project, were among those asked by residents.
"How many more wires and poles can we expect to see in this area in the next five years?," asked Jennifer Havercroft, resident of Daniel's Gate. Pearson responded to Havercroft stating, "It is hard to answer that question because we don't know what the plans are."
Xcel representatives also said it is not "cost effective" to bury new poles and lines that are being installed north of Coyote Ridge Park. Xcel also stated that the Public Utilities Commission (PUC) will not let them bury the lines because the cost would be passed on to
all rate payers.
Residents seemed to be receiptive to replacing the 180- foot pole with a 110-foot pole, until the end of the meeting.
As the meeting began to conclude, Pearson stated, "I get the feeling that you all think we are trying to hide things from you," he said. "We are not. You need to be aware however, that we are permitted by Douglas County to install four new 180-foot poles in the same area behind the hill just north of Coyote Ridge."
"We are thrilled the 180-foot pole is going to be gone, but now there is going to be four more just like it," replied a homeowner. "Do you even think about people that look at this everyday? Would you like that in your backyard?"
The crowd continued to express their outrage with Xcel. "When are the four new poles being ordered and is there any way to start considering alternatives now so we do not have to go through replacing poles again at a later date?," asked Havercroft.
Xcel agreed to hold off ordering the four new poles until they present photo simulations and host another community meeting. The four new poles Xcel plans to install north of Coytote Ridge are designed to be crossover lines to the Daniel's Gate substation.
The CPN Master Association welcomes residents to join an Xcel Power Line Task Force. To sign up to volunteer, please e-mail Contact by email. Future meetings with Xcel will be announced via community e-mail.