Residents Voice Concerns about New Skateboard Park And Get Results
August 1, 2006
/
/
Comments Off

on Residents Voice Concerns about New Skateboard Park And Get Results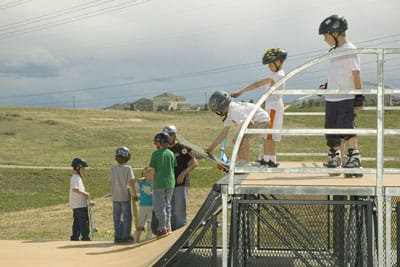 by Celine Hundt
A community-wide celebration on May 6 heralded the opening of the new skateboard park at Coyote Ridge Park. However, now that a few months have elapsed, the mood of some of the neighbors who live adjacent to the skate park is anything but celebratory.
While the park undoubtedly provides a much-needed outlet to local youth, some of those who live closest to the amenity feel there have been some negative trade-offs. These residents said that they have seen an increase in traffic and vandalism in the area since the park opened. Other voiced concerns include speeding, littering and noise issues. Anna Mallinson, a Serena resident, had this to say about the park: "We are not against skateboarding per se, but we are upset by what we see as a disregard for community safety."
Representatives from the Serena neighborhood were concerned enough about the problem to request a meeting with the Douglas County Sheriff's Office and the Castle Pines North (CPN) Metro District. The meeting was held on July 31 at the CPN Community Center. At the meeting, there was a high level of commitment on the part of all parties involved to work closely together to address the problems. As a result, CPN residents can expect to see increased and more explicit signage, better lighting, more frequent sheriff patrols, and a general commitment to zero tolerance of skate park rule violations. The group is also looking at implementing a community radar program to aggressively deal with speeding offenders.
Overall, residents seemed to be happy with the progress made during the meeting. Jennifer Havercroft, a Serena resident and North Lynx HOA President, said, "I feel that as a result of this meeting we are moving toward a positive resolution to the problem."
The Sheriff's Office provided the following phone numbers to the group for traffic situations that required law enforcement intervention:
Traffic Safety Hotline – 303-660-7539 (Use this number for ongoing traffic problem. Be sure to record location, days, times and nature of the problem.)
Dispatch Number – 303-660-7500 (Use this number for immediate situations. Be willing to press charges/go to court etc. Also be able to visually identify driver.)
For more information about who to contact with issues concerning the skateboard park, read "From the Mailbox" on page 2 of the August issue of The Connection.