RHMS choir students prove their talent
January 1, 2017
/
/
Comments Off

on RHMS choir students prove their talent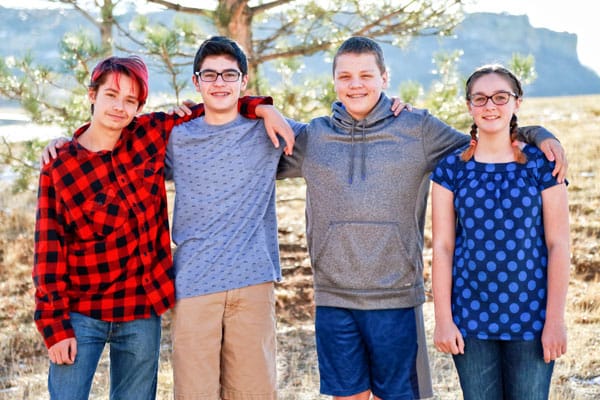 Pictured left to right: Brenden Bernsdorf, Griffin Rushall, Zach Neeb and Mila Penner will be competing in the Colorado Middle School All State Choir in February. The RHMS students auditioned with 1,600 other seventh and eighth grade students across the state for the opportunity to compete.


Submitted by RHMS student Zoe Bair; photo courtesy of Izzy Holsman
Do, re, me, fa, so, la, ti do. This year, Rocky Heights Middle School (RHMS) students Zach Neeb, Brenden Bernsdorf, Mila Penner and Griffin Rushall received the honor of being chosen for the Colorado Middle School All State Choir.
"All seventh and eighth grade choir students from across the state are eligible to audition," said RHMS choir class instructor Deanna Kraft. "In order to be selected, students must prepare for and submit a recorded audition that includes singing 'My Country Tis Of Thee,' melodic echoes (repeating back random patterns of notes), scales, and sight-reading. It is a very competitive process. About 1,600 students auditioned from across the state and only about 300 made it in." The selected students sent in their recorded auditions in early October, and the results were received in November.
The students will rehearse five selected pieces with nationally recognized choral directors, along with the best middle school singers from the state on February 2 and 3. On the evening of February 3, there will be a performance with all the chosen singers across the state at Bellco Theatre at the Colorado Convention Center.
Eighth grade student and Castle Pines resident Zach Neeb is excited about the entire experience. "Yeah! Finally, an opportunity to meet with 200 people with talents as great as your own, all sharing their own common goal of creating beautiful songs for everyone to hear," he said.
"The students that are selected come back to our choir classes with a huge amount of new information and a new love of quality choral music," said Kraft. "They become leaders in our classes, and it encourages other students to strive to be their best. I think that even having a few students participate raises the level of our choirs greatly."
This honor has not only made an impact on the chosen singers, but to all of RHMS choir.