Rock Canyon after prom party keeping our kids safe
May 1, 2013
/
/
Comments Off

on Rock Canyon after prom party keeping our kids safe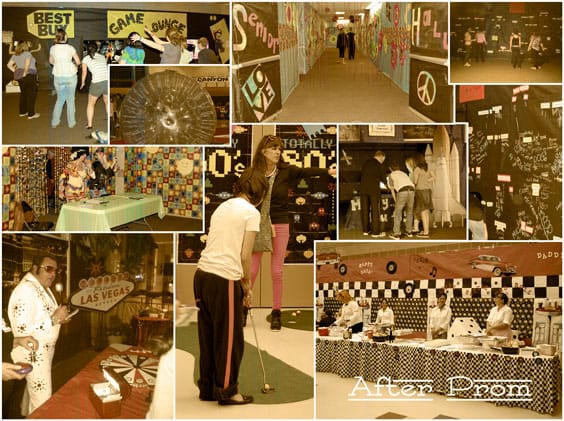 By Lisa Nicklanovich; photos courtesy of Michelle Campbell
Logo design by Jan Reagan
Nearly 700 Rock Canyon High School (RCHS) students arrived at school at midnight on Saturday, April 13 and stayed until 3:30 a.m. Sunday morning, April 14.
Instead of studying algebra, biology and English like they normally do at school, the students played cards in the casino, carnival games, and laser tag. They relaxed in the spa, got tattoos and line danced. They even played video games and enjoyed live music.
RCHS had been transformed for the annual after prom event which provides a safe, substance free, fun environment for teens on prom night, one of the most dangerous nights of the year for teens.
The theme, "Back to the Future: 10 Years at the Rock" celebrated the school's ten-year anniversary and featured familiar icons from many decades. These included a '50's diner and "Happy Days" themed movie theater/lounge, and a '60's themed senior hall showcasing each senior in photos.
Michelle Campbell of Hidden Pointe, a RCHS parent and after prom volunteer, created an "Elvis in Vegas Game Show" with Elvis impersonator Rob Eggett, an elaborate balloon arch photo op, and a "Coke or Pepsi?" wall, created with paper and chalk, where you would find students' answers to life's questions such as, "What can't you live without?" (Answers: music, love, oxygen).
Campbell turned a flight simulator activity into an out-of-this-world experience and decorated miles of walls. Campbell spent countless hours, along with her daughter Amber and friends Megan and Lauren, to make this year's after prom extra special.
Campbell is one example of the more than 150 parent, faculty, and community volunteers who poured their hearts into making each and every area amazing. Dedicated dads built an enclosed futuristic metal slide that sent students flying down the grand staircase, and twenty-foot beams were placed across the lobby to hang a disco ball and shimmering chandeliers. Even visiting the restrooms took you to another time and place.
One student remarked, "I can't believe they transformed the school in a day!" In actuality, planning begins in September.
Chairs of each committee begin brainstorming, sketching, planning and recruiting volunteers months ahead, keeping it all a surprise for the students.
Mr. Page, dean at RCHS, said, "Tanya Schutte and Karen Brankin, (the chairs of the event) worked hard to make the after prom experience something unique and special for every student. They brought some new ideas to this year's event and it was a huge success with a record number of students."
Rita Klement, whose young children aren't even attending RCHS yet, lent a hand decorating and said, "Truth is, you after prom folks are literally saving lives tonight. Thank you for giving the kids something safe to do."