Rock Canyon High School after-prom party goes coast to coast
May 1, 2014
/
/
Comments Off

on Rock Canyon High School after-prom party goes coast to coast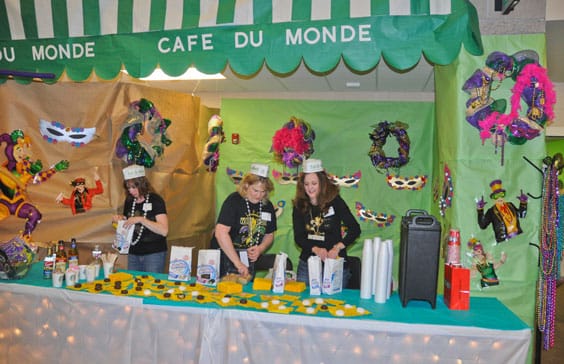 Just outside of the senior hall was the New Orleans-themed "Cafe Du Monde," which provided coffee and refreshments to keep everyone going throughout the night.
Article and photos by Andrew Bohren, RCHS intern writer
Almost any given night of the year, the inside of Rock Canyon High School (RCHS) looks like any other high school. On the night of prom however, the interior turned into a place that made the school look unrecognizable. The commons turned into a casino with blackjack and poker tables; the gym turned into a carnival with bounce castles and inflatable obstacle courses; and the upstairs hallway became a massage parlor, tattoo parlor, and a wedding chapel all in one.
On April 12, from 11:30 p.m. to 3:30 a.m., students returned from the prom dance at the Denver Air and Space Museum in Lowry to find their school divided into all different regions of the United States, all to the tune of rock n' roll music. This year's after-prom carried the name "Rockin' in the USA," where each activity was meant to represent a certain part of the country.
Students were able to test their luck in poker and blackjack in the Vegas casino, get married on the beaches of Hawaii, bid on raffles in Minnesota's Mall of America, and for the seniors – a chance to walk down memory lane in a New Orleans-themed senior hall.
Though after-prom is held at RCHS every year, it is not put together by the school's staff; it is put together based on an entirely volunteer basis. One of those volunteers, Castle Pines resident Deanna Merrill, has been helping with after prom since 2008, and has been in charge of the senior hall for the past two years.
"Once the theme is decided in October, we start planning our concept and design," Merrill said. "I had about 25 people over the past seven-to-eight months who worked on the project. The theme for the senior hall was New Orleans during Mardi Gras, so we placed the student collages on leaves to make it look like a Louisiana swamp," she said. "Since our budget is limited, I had my neighbors collecting things I could use for frames, and on a trip to New Orleans, I collected beads to bring home for decorations."
When all was said and done, it took more than 200 hours of volunteer work to set up for this year's after-prom party. Almost eight-and-a half days of volunteer work, and it only took 90 minutes to take down the day after to make RCHS look on Monday as if nothing ever happened!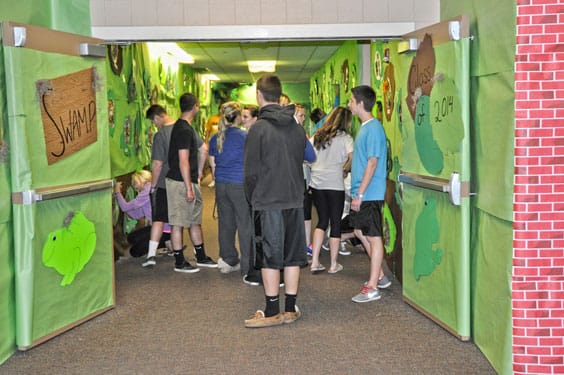 Students gather in the senior hall to view and sign the collages of
classmates and friends who will be graduating in May.