Rocky Heights Middle School basketball rotates to success
January 1, 2010
/
/
Comments Off

on Rocky Heights Middle School basketball rotates to success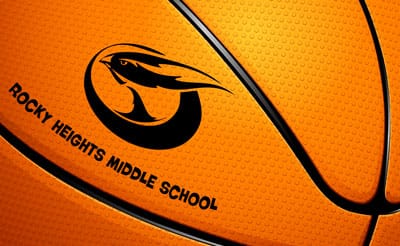 by Scott Lasher
The word "rotate" is used quite often in the sports world, particularly in the game of basketball. "Rotate to the weak side!" a coach might yell to one of his defenders. "Rotate to the basket!" a coach might yell on a pick-and-roll play.
The Rocky Heights Middle School eighth grade boy's basketball team is certainly rotating on the court, but head coach Tom Grace is rotating in a little different way.
Grace rotates from the seventh grade boy's team to the eighth grade boy's team, meaning he is the coach for the same group of boys each year, seventh and eighth grade. Next year, he will rotate back to a new seventh grade group, and then rotate up to the eighth grade level the following year.
"It has been really good, the rotation idea," Grace said. "I know what I taught them last season and the improvement is noticeable."
In the midst of the first rotation, the improvement has certainly been noticeable. The same group of boys who went 1-6 in their games last year is now 2-3.
"I have been very happy with the progression," Grace said. "We are teaching some fundamentals, like how to play man-to-man defense and spacing on offense, just trying to prepare these kids for the next level."
The next level is high school basketball, for most students at Rock Canyon High School. Grace said he has an excellent relationship with Jim McClurg, the head basketball coach at RCHS.
"I have no problems promoting Rock Canyon basketball to the kids at Rocky Heights," Grace said. "We try to teach fundamentals so they have a good foundation when they have the same kids in high school."
Grace was a three-sport, all-state athlete growing up in Dodge City, Kansas. He went on to play college basketball and even played football for the University of Wyoming. He has coached basketball for 16 years at all levels, including 10 as a high school coach.
Grace is the football, basketball and track coach at RHMS, and given his coaching background, it seems logical for him to jump to the next level, but Grace said he is content with where he is.
"The craziness of middle school seems to be my niche," Grace said.
With that in mind, kids at RHMS will continue to hear "Rotate!" on the court, as Grace will continue to rotate with them.