Solid Life Christian Center appreciates its pastors
January 1, 2010
/
/
Comments Off

on Solid Life Christian Center appreciates its pastors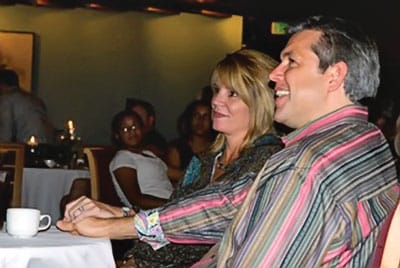 Pastors Russ and Becky Stutzman being honored at a dessert reception at the Inverness Hotel in Englewood in October.
By Scott Lasher

Solid Life Christian Center appreciates its pastors Russ and Becky Stutzman honored in unique way
In a church filled with an abundance of love and appreciation, something modeled by its pastors, how does the church go above and beyond to honor those pastors? This was the question Solid Life Christian Center (SLCC) aimed to answer during pastor appreciation month.
In honor of their pastors' six years of devotion to SLCC, the congregation held a surprise dessert reception for Pastors Russ and Becky Stutzman at the Inverness Hotel in Englewood in October.
The pastors were told they were going to dinner there with another member of the pastoral staff and then to investigate a meeting room at the hotel as a potential place for future church events. Much to their shock, the room was filled with members of the church all yelling "Surprise!"
"It [the reception] couldn't have come at a more perfect time," Pastor Russ said. "It certainly lifted our spirits and it speaks volumes about the loving and caring nature of our church family at Solid Life."
SLCC will celebrate the sixth anniversary of the church in March, so the congregation wanted to do something special for the senior pastors in honor of the ongoing wisdom and support they have provided during the previous six years.
"There are no words to adequately express how much that night meant to us," Pastor Becky said. "The love that was expressed from our church family was very encouraging. It's a privilege and honor to belong to this incredible church family."
Pictures of Russ and Becky through the years at SLCC were posted throughout the room where the reception was held, as well as placards inscribed with quotes from church members describing how much Russ and Becky meant to them.
Several members of the congregation spoke a few words about what Russ and Becky meant to their lives throughout the time they have attended Solid Life, and in many very emotional speeches, it was obvious the Solid Life is in the hands of very loved pastors.
"The love this church feels for not only one another but for their leadership as well is something that makes Solid Life so special," Pastor Russ said.
Solid Life Christian Center meets every Sunday morning at 10 am at Timber Trail Elementary School, located on the corner of Castle Pines Parkway and Monarch Boulevard.