The Castle Pines Connection celebrates!
January 1, 2010
/
/
Comments Off

on The Castle Pines Connection celebrates!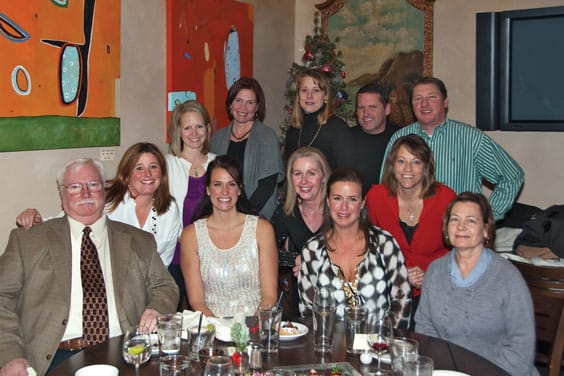 The Castle Pines Connection staff joins at Sienna at the Courtyard in Castle Rock to celebrate the holidays and also the one-year anniversary of its inception. Pictured above back row left to right: Elean Gersack (writer), Lisa Crockett (writer), Tracy Dudley (writer), John Kenny (proofreader), and Tom Ballantine (ad sales). Front row left to right: Tim Gamble (graphic designer and webmaster), Carin Kirkegaard (writer), Terri Wiebold (editor and publisher), Liz West (writer), Christy Miller (ad sales), Kathy Dunker (writer), and Sandy Gamble (ad sales). Not pictured are Scott Lasher (writer), Sally Uhrich (writer), Michael Deeth (graphic designer), Paige Newman (intern writer), Chris Bohnam (intern writer), and Joe Gschwendtner (writer).


Article by Terri Wiebold and photo by Bob Wiebold
The Castle Pines Connection has completed its inaugural year as your premier neighborhood newspaper in the Castle Pines community.
It was a year ago December that the Castle Pines North Master Association made the decision to discontinue its homeowner's association newspaper to provide Castle Pines North residents a reduction in homeowner dues.
A year ago December that the business community rallied its support for an independent news source, and through local advertising dollars provided funding for a new newspaper that would serve the greater Castle Pines community.
A year ago December that friends Lane Roberts, Sharon Kollmar, Tim Gamble, and Terri Wiebold decided to combine their creative talents and bring you The Castle Pines Connection.
The last year has brought about many changes for The Castle Pines Connection. Our distribution has increased from 3,500 to 7,500 copies; our frequency has changed from bimonthly to monthly; our issue size has grown from 32 pages to 48 pages; and our staff has grown from seven to eighteen.
Through all the changes, however, one thing has remained consistent – the endorsement of our local advertisers. Without the financial support of these neighborhood businesses, your paper could not exist.
It is our hope that for every dollar businesses commit to advertising in The Castle Pines Connection, they receive many times the reward in customers shopping locally and supporting them in return.
Please take the time to read the list of businesses and entities that have advertised this past year and patronize these businesses who have supported us, YOUR community newspaper.
Finally, we can't look back at the past year without recognizing all those in the community who have contributed to the look, feel, character, and content of the paper.
Thank you to everyone who wrote in with story ideas, to all who submitted articles and photographs, to those who provided editorial feedback, and to the amazing staff of individuals who paint a picture each issue of the Castle Pines community in a way that helps us all to remember what a special place this is to live!

Auto Dealers
Kuni Lexus of Littleton
303-798-9500

Automotive Services
Big O Tires
720-733-1707
Happy Canyon Car Wash & Detail Center
303-814-1188

Banking Services
Castle Rock Bank
303-688-5191
First Commercial Bank
303-754-5382

Banquet Venues
Cherokee Ranch and Castle
303-688-5555
Cielo at Castle Pines
303-478-7187

Business Associations
Castle Pines Chamber of Commerce
303-688-3359
Lone Tree Chamber of Commerce
303-792-3282
Carriage Rides
Blue Moon Carriages
303-489-7299

Chiropractic Services
Canyon Ridge Chiropractic
303-660-3505
Horizon Pain Center
303-663-3510

Churches
Christ's Episcopal Church
303-688-5185
God's Grace Community Church
303-790-1084
Solid Life Christian Center
303-792-5237

Cleaners
Green Earth Cleaners
303-660-5522

Cleaning Services
Maid Pro
303-840-5858
ServPro
303-733-9076

Clothing/Apparel
Sassy Sisters Clothing
720-635-2033
TEAM 2000
303-744-0200

Computer Services
Castle Rock Computer Services
303-596-5400

Construction Trades
Agape Construction and Roofing
303-841-8200
A Repair Guy, Inc
303-814-2424
B & D Professional Builders
303-688-5556
Castel Builders, LLC
303-910-3558
Colorado Creations
303-506-3355
Colorado Hearth and Home
303-792-0101
DCM&R Landscaping
303-688-3267
dcs Roofing & Solar
303-688-4545
MC Contracting
303-517-4831

Counseling Services
Lifeline Counseling Services
303-570-7333

Dental Care
Bumgarner and Linn Orthodontics
303-688-9617
Castle Pines Orthodontics
303-688-3837
Colorado Kids Pediatric Dentistry
303-225-4715
Panorama Park Family Orthodontist
303-792-0345
Vibrance Comprehensive Dentistry
303-770-1116

Development
HF Holdings, LLC
303-795-9900
RidgeGate
720-279-2581
Taylor Morrison Homes
303-798-3500
The Canyons
720-581-2280
Ventana Capital
303-346-7006

Emergency Care
MedExpress Colorado
303-238-3627
Parker Adventist Hospital
303-269-4000

Eye Care
Castle Pines Eye Care
303-688-5066
Castle Rock Eye Wear
303-663-2034

Face and Body Aesthetics
Center for Plastic and Aesthetic Surgery
303-708-8234
Denver Face & Body
303-708-8234

Financial Services
Cook Financial Associates
303-688-6499
Home Lending of America
303-757-7555
H & R Block
303-688-6197
K.G. Consultants, Inc.
303-773-0277
Stonebridge Financial Solutions
720-895-8200

Fitness and Health
A+ Class Act Fitness
303-862-5159
Joe Gallo Personal Trainer
303-681-3498
Kent Paul Personal Training
303-358-2242
Pilates in the Pines
720-733-9307
Village Fitness
303-688-4949

Florist
Garden Path
303-688-8019
The Flower Shop at Castle Pines
303-663-8835

Food Market
Jenny's Market
720-519-0499
Foundations
Douglas County Library Foundation
303-688-7638
Friends of Los Pisingos
720-837-5335

Frames
FASTFRAME
303-663-8033
Frames on Wheels
303-408-3887
Furniture
Adams Fine Furnishings
303-215-0967
ADWoodcraft
303-663-7539
Golf
The Ridge at Castle Pines
303-688-4301
The Ridge Coaches Club
720-940-5007
Government
Castle Pines North Metro District
303-688-8850
City of Castle Pines North
303-705-0200
Douglas County
303-660-7358

Graphic Arts
JCJ Creative
303-663-7539

Heating and Air Conditioning
Achievers
303-888-6655

Home Staging
Home Stage Coach
303-229-0152

Insurance
Compass Insurance Group
303-996-9000
Insurance Solutions
303-663-1700

Jewelers
Castle Pines Jewelers
303-688-8384

Lawn Care
LeMaster Lawn Care
303-325-6603
Perspective Landscape, Inc
303-934-1330

Legal Services
Dennis Valentine, Attorney & Counselor at Law
303-758-5200
JM&A – Deborah Kish Johansen, J.D., M.B.A. Christina L.C. McDonald, J.D.
303-688-1381

Martial Arts
Han Lee Taewkondo Academy
303-814-9300

Music
Baker Piano Center
303-730-7779

Painting
Alpha Painting
303-507-8121
Country Roads Painting
720-271-9026
LS Painting, Inc
720-495-7915

Printing
Barnum Printing
303-936-2345
Unique Litho
303-830-2999
Physicians
The Rock Internal Medicine, PC
303-688-5025
Real Estate
Coldwell Banker – Jade Goldfogel
303-688-6100
Fuller Castle Pines Sotheby's International Realty
303-893-3200
Fuller Sotheby's International Realty – Linda Houston
303-906-9888
Keller Williams – Renee Palmer
303-888-3808
Kentwood – Doug Hutchins
303-886-3437
Kentwood – Joyce Romanello
303-773-3399
Kentwood – Ron Ansay
303-478-5110
Perry and Company – Sandy Colling
303-399-7777
Prudential Preferred – Linda Clure
303-688-6644
Prudential Preferred Real Estate
303-688-6644
RE/MAX Elite
720-273-1395
RE/MAX Professionals
720-344-2262
RE/MAX Professionals -Derek Kliner
303-332-3800
Stucy Realty Company
303-660-0801
The Herman Group
303-506-8322
True West Real Estate
303-468-6703
Your Castle Real Estate
303-757-7555
Restaurants
A Taste of Mexico
303-660-2014
DAZBOG Coffee
720-733-6699
Hapa Sushi Grill & Sake Bar
303-641-7149
La Dolce Vita
303-663-3421
Little Italy Pizzeria
303-663-2111
Rodney's of Castle Pines
720 733-6565
Siena at the Courtyard
303-688-2622
The Barking Goat
303-717-9774
The Ridge at Castle Pines
303-688-4301
Schools
Cherry Hills Christian School
303-325-8179
Primrose School of Castle Rock
303-663-0333

Seminar Training
Courtesy Boot Camp
303-909-8745
Senior Care
Castle Country Assisted Living
303-688-5365
Shopping Centers
Castle Centerstone
303-688-2520
The Village at Castle Pines
303-255-4700
Specialty
Enchanted Gifts
303-619-0565
Holiday Boutique
303-751-5881
Sassy Soiree
303-688-1114

Sporting Goods
Play It Again Sports
720-479-8245

Sports Programs
Castle Pines Athletics
303-957-1512
Sports Complex at Inverness
303-683-9200
Swim Tech, LLC
303-818-4283

Tanning Salons
Exclusive Tans
303-660-9767

Temporary Staffing Services
Douglas County Temporary Services
303-688-6795
Tutoring
Club Z
303-681-3100

Veterinary Services
Animal Care Center
303-688-7875
Castle Pines Veterinary Clinic
303-680-8665
Virtual Office
Castle Pines Executive Suites
303-785-6501

Windows and Doors
Renewal by Anderson
866-669-3184

Wine and Spirits
Castle Pines North Wine & Spirits
303-663-4795
Vino 100
303-997-7186