Roger's Roosters rave at race results
April 1, 2016
/
/
Comments Off

on Roger's Roosters rave at race results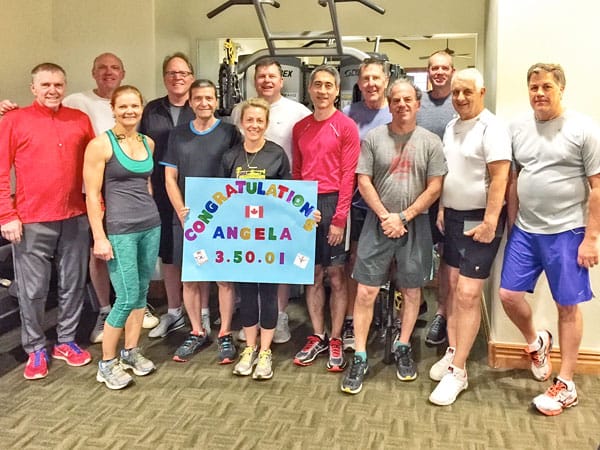 Castle Pines Village Lakes Fitness Center morning regulars surrounded 42-year-old marathon runner Angela Williams. Williams arrived for her daily workouts at 4:45 a.m. so she could return home in time to wake her three children for school. Discovering Angela to be a serious and driven athlete, the morning group of supporters – affectionately known as "Roger's Roosters" – pulled out all the stops to offer wisdom and inspiration to help Williams. At the New Orleans Rock 'n' Roll Marathon on February 28, she went on to beat her personal best by finishing in less than four hours and placing 20 out of 364 females in her age division.|

Article and photo by Joe Gschwendtner; photos courtesy of the Williams Family
The Castle Pines Village Lakes Fitness Center caters to all, opening at 4:45 a.m. every morning. Invariably, one finds the usual crew there pounding the machines and fighting a losing battle with Father Time. Their unofficial leader and chief conversation officer is Roger Dunker. Some call the group "Roger's Roosters." Those happening by early, knowing neither the regimen nor participants, would often become engaged in the banter as Roosters told it like it was … or should have been.
So it was that first morning many months ago when young Canadian Angela Williams found herself in the middle of the ususal morning conversations. But she was uncommonly different from others, as discussions quickly revealed. Indeed, the Roosters learned this demure (5'1") woman was also a mother of three children and a marathon runner. She was diligent and efficient in her workouts and she exercised early to finish with enough time to wake her children in time for school.
Angela became a bit of a legend to many, having been introduced to the art of running 16 years ago by a 60-year-old friend of her mom's, Don Mullin. A 10K race in Toronto in 2000 had marked her more formal beginnings. As life continued to "happen," Williams quit her teaching career when husband Jason's software career relocated the family to Colorado and ultimately Castle Pines Village. Meanwhile, Angela moved into longer distance running and eventually marathons while her family was still growing.

Angela Williams (left) swilling the moment with her friend and fellow marathon runner Lisa Malenfant.
Having run five marathons over the years, each contest represented a personal goal: to recondition herself after the birth of her three children (Abigail, Dean, and Blake) or to accompany Don Mullin at age 70 in Prague in 2010.
Back to the Village. Angela fell under the spell and friendship of the morning crew. What a gift she proved to be and they to her as well.

Now the guys had something tangible to which they could contribute wisdom and support, and daily encouraged Angela to reach her dreams. Prior to meeting and unofficially joining the fitness group, Angela's personal best marathon was 4 hours and 17 minutes. A remarkable time for her age already, the gang came to urge her on with loftier goals, convincing Angela she could do her next marathon in under 4 hours. The New Orleans Rock 'n Roll Race to be held on February 28th became the target of opportunity and the rest of the story.
Jason's faith in her and Angela's own focus, determination, and persistence became the critical inputs. When the race finally ended, Angela had posted a time of 3 hours and 50 minutes, bettering her previous record by almost half an hour. Among other women, she placed 119 out of 1,963 runners and number 20 of 364 females in her age division. Roger remains convinced today that because of her short legs, she took twice as many steps as most competitors. The jury is still out on this, and at the Village Fitness Center conversation about it will go on interminably.

Angela Williams shared a special embrace with her number one supporter, husband Jason, following the New Orleans Rock 'n' Roll Marathon. Both completed the race and bettered their previous race times.