Skating a personal tough road to make his dream come true
April 1, 2016
/
/
Comments Off

on Skating a personal tough road to make his dream come true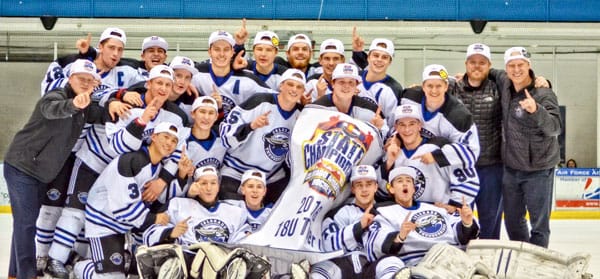 Broschat's team the Thunderbirds took the state championship last month at the Air Force Academy in Colorado Springs.


By Kathy Fallert; photos courtesy of the Broschat Family
Hockey is a game of toughness and endurance, and Stonecroft resident Tanner Broschat is a true hockey lover. A player since the age of three, Broschat was born with a genetic condition of a perforated bone in both of his feet. When he hit puberty and started growing, the tendon attached to that bone started to pull the bone apart at the perforation which was very painful.
Roller hockey at the age of three replaced by ice hockey at the age of six, Broschat played for the Arapahoe Warriors from kindergarten until sixth grade. His team won State in sixth grade and went on to Nationals in Washington, DC. Then came a difficult year off for surgery and recovery. In seventh grade Broschat had to have a operation called the "Kidner procedure" to remove the accessory navicular bone in the arch of each foot.
Having to take a year off from hockey, mom Trudi Broschat recalled, "He spent about six months in splints, casts and braces for both feet. What a sight to see him walk again after being stuck on the couch for months! Even more exciting was to actually see him skate again, which was something the doctors didn't know if he'd ever be able to do. He could barely put a shoe on much less an ice skate!"
Dedicated to the sport, Broschat didn't let that get him down. After the year off for surgery and recovery, Broschat played from eighth grade through eleventh grade for the Colorado Rampage out of Monument. Moving up to AAA hockey his tenth and eleventh grade years, he played U16AAA and U18AAA for Rampage. This year as a senior, Broschat played for the Colorado Thunderbirds U18AAA team as well as varsity hockey at Rock Canyon High School (RCHS).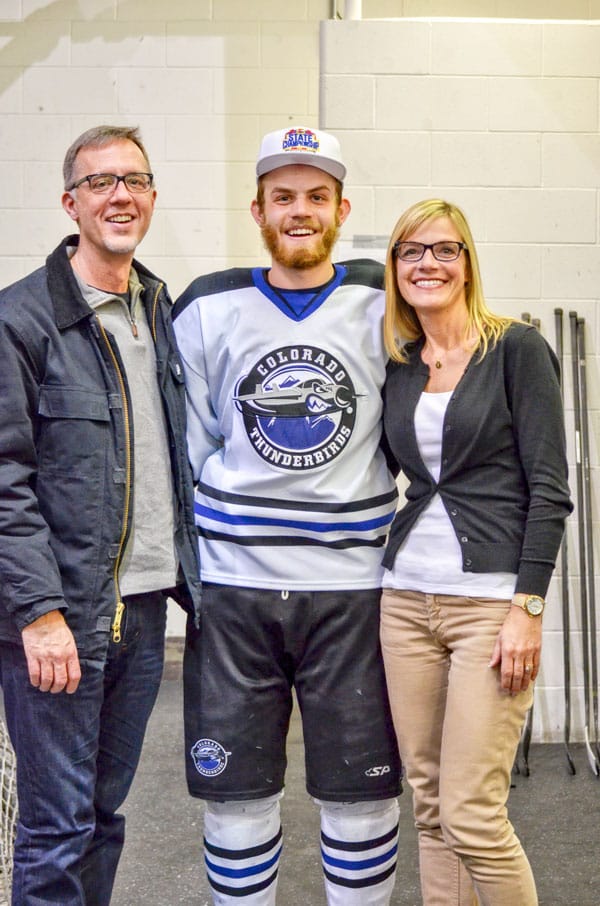 Tanner Broschat (pictured with his dad Tad and mom Trudi) has been an avid hockey player since the age of three and has overcome physical obstacles to play the sport he loves.
A tremendous amount of dedication is necessary to reach the level of playing that Broschat has attained. In elementary school, he got up at 4 a.m. for his 5 a.m. practices and then went to school. As a senior he is gone six hours a day for dryland and ice (2 p.m. to 8 p.m.), gets home needing to shower, eat dinner, and do hours of homework. Broschat has kept his grades up, in spite of the amount of school he misses with the team's travel schedule. Broschat has been on the honor roll every semester of high school and is a member of the National Honor Society.
As the icing on the cake, Broschat's team won the state championship last month. Trudi said, "Definitely a great way to end his youth hockey career his senior year! Now he is deciding if he wants to go on to the Juniors, play in college, or just keep skating for fun. One thing is for certain, all roads lead to men's 'beer league' hockey. Hockey isn't a sport you just quit playing after high school. It's in your blood and part of your life forever!"
Broschat remarked about his team's state championship, "There was so much outstanding competition this year among the teams. The Thunderbirds came together at the end of the season when the championship game was on the line. I loved playing with these coaches and teammates and I couldn't have asked for a better season. It was a great year and a lot of fun!"
His team qualified for the Rocky Mountain District Championship Tournament that was held March 11-13 at Ice Centre at the Promenade in Westminster, Colorado, with the hope of advancing to the USA Hockey National Tournament in San Jose, California.