Rotary Club fosters youth leadership locally and internationally
August 29, 2014
/
/
Comments Off

on Rotary Club fosters youth leadership locally and internationally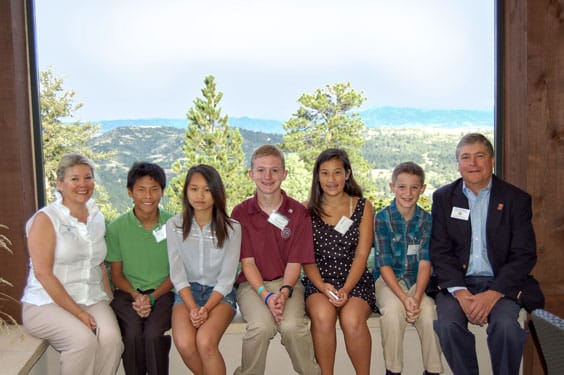 These five outstanding incoming eighth grade students at Rocky Heights Middle School were chosen to attend Rotary International's leadership camp based on their grades, community service, and leadership abilities. Left to right: Renee Palmer (co-chair), Joshua Bullock, Coco Wang, Liam Zdravecky, Madison Tran, Bryce Duston, and Gary Bartmann (co-chair). Not pictured: Allison Bordeaux, Ashley Bordeaux, Kylie Hutchison, and Jordyn Isner.
By Amy Shanahan; photos by Amy Shanahan and courtesy of Gary Bartmann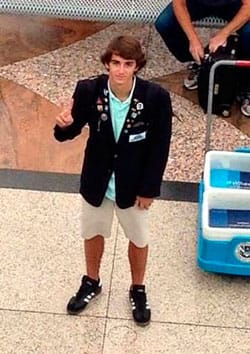 Jason Lewis pictured here with his parents is excited to spend his sophomore year of high school in Brazil as part of a cultural exchange program sponsored by Rotary International.
Lewis left Denver International Airport at the end of July to fly to Brazil for a once-in-a-lifetime experience.
The Rotary Club of Castle Pines has made tremendous strides in encouraging youth participation in the club over the last two years. Under the leadership of the club's co-chairs of Youth Services Gary Bartmann and Renee Palmer, the club began the Interact Club at Rocky Heights Middle School (RHMS), and began sending some outstanding RHMS students to the Rotary Youth Leadership Awards (RYLA) camp.
The Interact Club was formed in 2013 by Bartmann, with the support of RHMS counselor Kate Egan. The club meets weekly and focuses on service to the local and international community, and each year the club has become more popular with students. Additionally, Bartmann and Palmer encouraged the staff at RHMS to nominate class leaders to apply to attend RYLA the summer before their eighth grade year.
RYLA is an amazing leadership camp that is run by Rotary International each summer. In its first year at RHMS, the Rotary Club of Castle Pines selected and sponsored five students to attend the camp. This past summer the club received thirty applications and sent a record nine students to camp.
Kylie Hutchison, a current eighth grade student at RHMS attended RYLA this past summer and raved about her experience. "I really loved the camp because there were so many great people there. They had lots of inspirational speakers there to teach us about what it's like to be a leader and how to be a better one. I hope to share my experiences with others and am most excited about the projects that we'll be doing this year with the Interact Club."
Jason Lewis is one of the original students to attend RYLA and was one of the founding members of the Interact Club. Lewis, who now attends Regis Jesuit High School, has taken his experience with Rotary International to a whole new level. Lewis will be spending his sophomore year studying in Brazil as part of the Rotary International Youth Exchange Program. The program helps to foster understanding among different cultures and Lewis was thrilled to represent his state of Colorado and his local Rotary club.
"I believe that it's an opportunity to take myself out of my comfort zone in order to gain greater life experience and simply enjoy life. The most exciting thing is meeting new people who you are able to bond with on a level much more than at home because just being able to communicate with them is a privilege."
For more information about the Interact Club at RHMS, e-mail. For more information about the Rotary Club of Castle Pines, contact Gary Bartmann at 303-565-6677.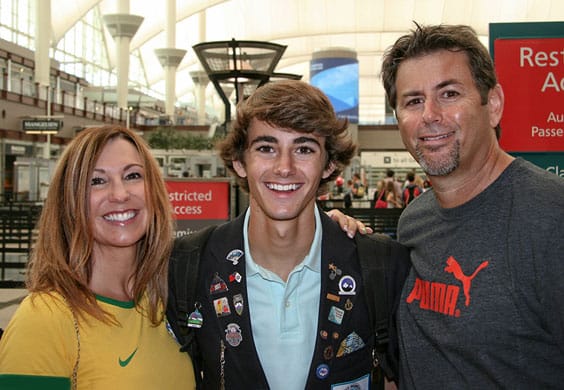 Jason and his parents (photo courtesy of Ellen Lewis)