Sage Canyon students learn lifesaving skills
January 1, 2016
/
/
Comments Off

on Sage Canyon students learn lifesaving skills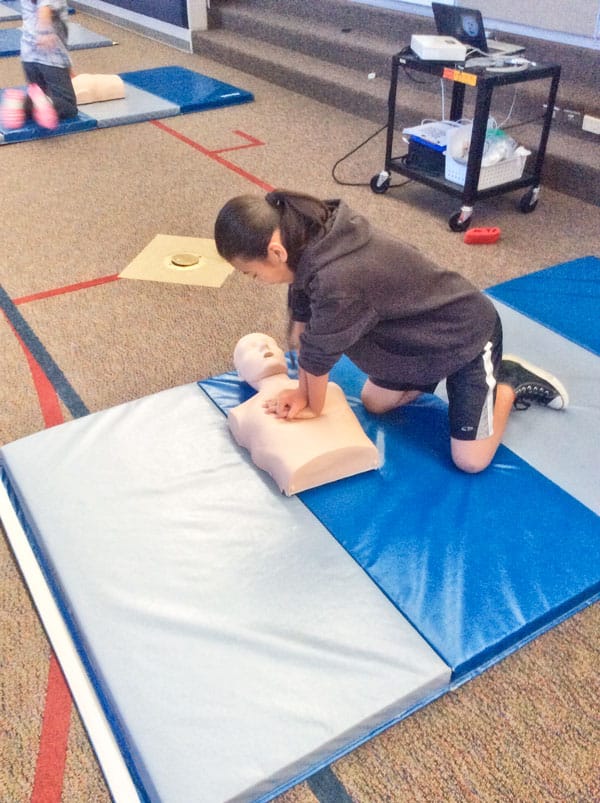 Sage Canyon student Molly McGillicuddy practiced chest compressions as part of the school's new first aid, CPR and AED training.
By Lynne Marsala Basche; Photo courtesy of Sage Canyon Elementary
Lifesaving emergencies happen unexpectedly, and courtesy of a new program at Sage Canyon Elementary, third through sixth graders will know what to do should they encounter such a situation. As part of their physical education class, students are learning first aid, cardiopulmonary resuscitation (CPR) and automated external defibrillation (AED).
With the support of his administration, P.E. instructor Lance Schoenwald became certified to teach first aid, CPR and AED. Schoenwald knew that as part of the project-based learning initiative, which strives to teach kids skills they can use to address real-world problems, his students would reap the benefits of learning first aid, CPR and AED.
Schoenwald took a creative approach to teaching kids what to do in emergency situations and tied it to being active and physical. For example, he modified games like freeze tag and incorporated lifesaving protocols for the kids to perform in order to be able to get back into the game. This type of dynamic approach took traditional learning to a new level, and kids continue to be engaged and excited to learn more.
The American Red Cross does not give certifications to anyone younger than 16, but certification is not the goal of teaching these students. Schoenwald believes it is about teaching knowledge and giving kids the skills to know the signs of a stroke, when to call 911, and how to recognize head injuries. While these kids may not be strong enough to do actual chest compressions, they can explain the steps to an adult who is available to assist.
Approximately 450 third through sixth graders have participated in the training, and Schoenwald has plans to expand the program to other grades this spring, including kindergarten. The younger students will be introduced to topics such as how to recognize heat exhaustion, the correct way to clean a wound and apply a dressing, and what to do if you get a sunburn.
Sage Canyon Elementary is certainly making learning as authentic as possible with its first aid, CPR and AED lessons. "If one child saves someone's life someday, it makes all of our time worth it," said Schoenwald.