Selling homes opens the door to build them
March 1, 2017
/
/
Comments Off

on Selling homes opens the door to build them
Celebration day! The Sanchez family poses in front of their new home with the Giveback Homes team.

By Kay Bryant; photos courtesy of Jessica Northrop
Seven-year Castle Pines resident Jessica Northrop is a wife, mother and professional real estate agent who was looking for a way to give back. She recently found it helping to build a home for a deserving family in Nicaragua.
Northrop wanted to volunteer, and like many of us, wondered how to get started. One day during a conversation with a colleague (Castle Pines resident Ryan Secrist), he shared his involvement with Giveback Homes, a volunteer organization for real estate professionals. Northrop felt an immediate connection to the organization and knew this was her path to volunteer. She learned about an upcoming build project in Nicaragua and decided this was how she wanted to contribute.
When her flight took off from Denver International Airport, Northrop knew no one, only that a team of 10 would meet in Nicaragua to build a home for a family in need.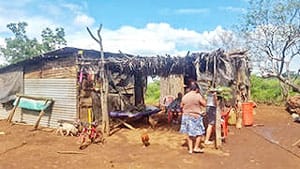 The original Sanchez family home brought strong emotions for Jessica Northrop and the Giveback Homes team
The Sanchez family lived in a tiny, unsafe and diseased structure made of wood and plastic pieces that were sectioned together (pictured above). Family patriarch Mauricio was suffering through late stages of kidney failure and mother Carla, along with her four children and one grandchild, would soon be on their own. Northrop and the team spent three very physical days mixing cement, securing rebar, hauling cinder blocks and applying mortar to build the home. Habitat for Humanity provided the metal roof and metal windows for the home.
Northrop found the experience thoroughly rewarding and has set goals for 2017 to fund build dates in Nicaragua and also Denver through her real estate business. She is thrilled to share this opportunity with others who might be interested in getting involved with Giveback Homes. According to Northrop, we are so blessed in comparison to the majority of the world. "If we all work together, we can make a big difference and be part of the solution," she said.
To learn more about Northrop's trip to Nicaragua and the Sanchez family she helped, visit www.conciergeauctions.com, click on the "Films" tab, scroll down and select the video "La Esperanza – A Documentary." To learn more about Giveback Homes, visit https://givebackhomes.com/.

Jessica Northrup