Seniors celebrate favorite teachers
June 1, 2016
/
/
Comments Off

on Seniors celebrate favorite teachers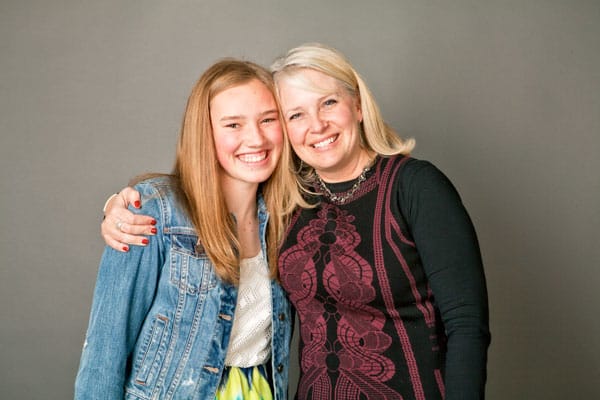 Rock Canyon High School Senior Meghan Cook (left) honored language arts teacher and yearbook adviser Kristi Rathbun at a special event last month. The night featured tributes to teachers of graduating seniors from across Douglas County.


By Lisa Crockett; photo courtesy of Castle Rock LDS Stake
Graduating seniors usually have a lot on their minds: finals, summer jobs and college, to name a few that might top the list. In keeping with an annual tradition, seniors who are members of local congregations of the Church of Jesus Christ of Latter-day Saints (Mormons) take a brief break from making all those plans to stop and say thank you to the educators who've made them who they are. Teacher Appreciation Night, held last month, featured seniors from across Douglas County, including several from Castle Pines, who invited a favorite teacher to a special party in their honor.
"As a public affairs council for the Church of Jesus Christ of Latter-day Saints here in the Castle Rock area, we are always looking for the chance to help or thank others in our community," said Pam Jones, council member. "Teachers are mentors who provide more than just academic excellence. Each year, we look forward to this event as a way to say thank you."
Each teacher in attendance was selected by a graduating senior and invited to an evening of inspiring words, good food and appreciative company. After a keynote speech from Dr. James Calhoun, the retiring principal of Castle View High School, teachers were fêted with an individual tribute read by the senior who selected them.

"Being a part of the Teacher Appreciation Night is such an honor," said Kristi Rathbun, a language arts teacher and the yearbook adviser at Rock Canyon High School. "Listening to all the tributes is incredibly inspiring and provides an extra motivational push for everyone as we wrap up a busy school year."
Rathbun was selected by Rock Canyon High School senior Meghan Cook. Cook rubbed shoulders with Rathbun during sophomore language arts, as well as a year and a half on the yearbook staff. Cook said she selected Rathbun for her influence in many aspects of her life, both in and out of the classroom.
"Mrs. Rathbun helped me expand my writing skills and inspired me to be a more creative writer," said Cook. "But she also treats me as more than just a student and is interested in more than just my scholastic life. She treats me as a friend."
Cook is looking forward to a summer of work and fun, followed by starting her college education at Utah State University this fall, where she plans to study elementary education. Athletics, school activities and academics dominate Cook's time, but she said she is glad to have participated in a formal forum for offering gratitude to the countless teachers county-wide who have helped her and other fellow seniors achieve their goals.
"We take this time to honor teachers because our religion values education," said Cook. "It's important to take some time to thank people who dedicate their lives to helping us."