September is National Suicide Prevention Month
September 1, 2018
/
/
Comments Off

on September is National Suicide Prevention Month
By Patte Smith with information courtesy of the Suicide Prevention Lifeline
Volumes of information have been published about suicide, suicide prevention and the people who have lost someone to suicide. This information is vital and not to be ignored. We need to educate ourselves, our children, families and friends about the risk factors and warning signs of suicide. If you see someone struggling, ask them about it. DO NOT BE AFRAID TO TALK ABOUT IT.
"Research shows people who are having thoughts of suicide feel relief when someone asks after them in a caring way," noted the Suicide Prevention Lifeline (SPL). "Findings suggest acknowledging and talking about suicide may reduce rather than increase suicidal ideas."
In the U.S. there are many support lines and groups for individuals who are contemplating suicide and for friends and families who are worried about someone attempting suicide. Do not wonder about suicide; get in touch with one of these organizations as soon as possible.
One suicide survivor, Ashley, wrote on the SPL website: "Don't be afraid to talk about it – speak up. It doesn't matter if you know someone who is considering suicide, or if you are the person considering it. Go to everybody. Go to a complete stranger. Call someone. There are people who are willing to listen, who can help."
And as we all realize, too many veterans are at risk for suicide. The challenges of adjustment and transition, post-traumatic stress, traumatic brain injuries, and physical disabilities play a role in suicidal thoughts and actions. If you know a veteran, talk with them and guide them to help.
For those who have lost a family member or friend to suicide, seek out support. Talk to friends or contact community, state or national resources. Get in touch with them for support and guidance and to find a local support group.
Join the effort with hundreds of thousands of people to raise awareness at the American Foundation for Suicide Prevention (AFSP) Out of the Darkness Walk on September 22 at Coors Field. The walk not only raises awareness about suicide, but the funds also help provide new research, create educational programs, advocate for public policy and support survivors of suicide loss.
To register, visit www.afsp.donordrive.com/.
Here are a few websites for suicide prevention and support.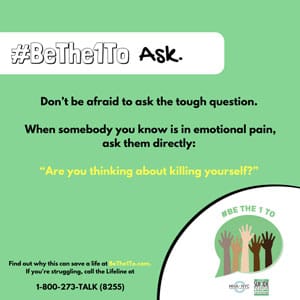 #BeThe1To is the National Suicide Prevention Lifeline's message for National Suicide Prevention Month and beyond, which helps spread the word about actions we can all take to prevent suicide. The Lifeline network and its partners are working to change the conversation from suicide to suicide prevention, actions that can promote healing and helping and giving hope.
If you are in crisis, call the Colorado Crisis & Support Line at 1-844-493-TALK (8255) to connect with a trained counselor in your area.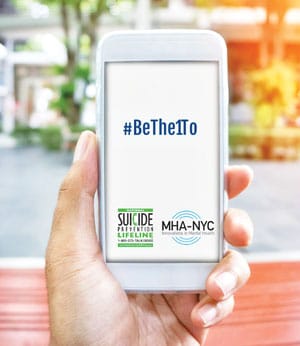 Or reach the toll-free National Suicide Prevention Lifeline at 1-800-273-TALK (8255) 24 hours a day, 7 days a week. The service is available to anyone and connects the caller to a certified crisis center near where the call is placed. www.suicidepreventionlifeline.org/.
American Foundation for Suicide Prevention: www.afsp.org/.
Suicide Prevention Resource Center: www.sprc.org/.
The Veterans Crisis Line is 1-800-273-8255. Press 1 when prompted. You can also send a text message to 838255 or chat at www.veteranscrisisline.net/get-help/chat.