Service in the eye of the beholder
November 1, 2019
/
/
Comments Off

on Service in the eye of the beholder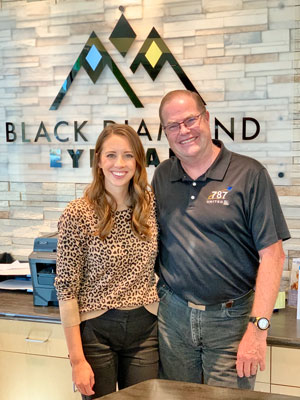 Castle Pines resident Ken Patrick (right) credits Black Diamond Eye Care optometrist Dr. Rachel Hasler (left) with saving his eyesight.

Article and photo by Terri Wiebold
Wellness is an important part of everyday life, as well as a critical component to a successful career.
The Castle Pines Connection recently received this letter from a resident who credits a local doctor for saving his eyesight and potentially saving his career. Good news worth sharing!


Dear Editor,
As is often reported in The Connection, the City of Castle Pines is supported by exceptional professionals and high quality businesses. I just wanted to identify one of our communities exceptional professionals, Dr. Rachel Hasler of Black Diamond Eye Care.
As a pilot, my vision is of critical importance and I've been going to Castle Pines Eye Care (now Black Diamond Eye Care) since Dr. Jason Ortman opened his practice here long, long ago. Early this year after a routine eye exam, Dr. Hasler identified a condition called posterior vitreous detachment (PVD) in my left eye. As a precaution, Dr. Hasler followed up with me the next week and identified a tear on the periphery of the retina that required immediate medical attention to save my vision.
I went to my HMO optometrist to get the required referral for retinopexy, a procedure where a laser is used to burn the retina in place and avoid retinal detachment and loss of vision. Unfortunately, the HMO optometrist to whom I was sent to get the referral couldn't identify the tear that Dr. Hasler had discovered. I was shocked and alarmed, especially since Dr. Hasler had given me a photo of the damage to my retina for purposes of easy identification! After much insistence by my wife, the HMO optometrist consulted one of his partners who said she might have seen something and approved my consult with the retinal surgeon. The eye surgeon quickly identified the damage that Dr. Hasler had discovered and immediately performed the retinopexy procedure, saving my vision and my career.
Considering the 'difficulty' other optometrists had in identifying my retinal tear, I feel extremely blessed that Dr. Hasler, and the rest of the Black Diamond Eye Care team, are the exceptional eye care professionals they are. Without Dr. Hasler and Dr. Ortman, I could easily have lost my vision and my career.
I would like our neighbors to be reminded of the quality businesses we have in our community, and I hope Dr. Hasler can receive the attention she deserves for providing outstanding eye care.
Thank you, Ken Patrick