Service-learning adventures
June 1, 2019
/
/
Comments Off

on Service-learning adventures
Dedicated DCS Montessori (DCSM) middle school students traveled domestically and abroad this spring to help improve trails and bridges as part of their service-learning curriculum. On their last day in Goosenecks State Park in Utah (pictured above), students sat atop the deep canyon to enjoy striking views of the San Juan River below. Inset is another group of DCSM students who traveled more than seven hours by plane to a small village in Yunguilla, Ecuador.

By Julie Matuszewski; photos courtesy of DCS Montessori
An integral part of the Montessori learning philosophy is empowering students to make the world a better place. This spring, approximately 62 DCS Montessori (DCSM) middle school students chose one of three trips as part of their service-learning curriculum. Some students learned how to peacefully coexist with wolves (see related story page 35), while others traveled abroad to repair roads and trails in primitive villages. Remaining students worked with state parks to ensure public land was respected and protected.
The "No Barriers" flag was the foundation for those students who traveled to Ecuador. No Barriers Youth is a premier educational program that challenges young people to contribute their absolute best to the world. Through transformative experiences, tools and inspiration, No Barriers helped these DCSM students do just that. The students set their expectations and what they hoped to gain from their trip through various words; teamwork, understanding, generosity, unity and kindness.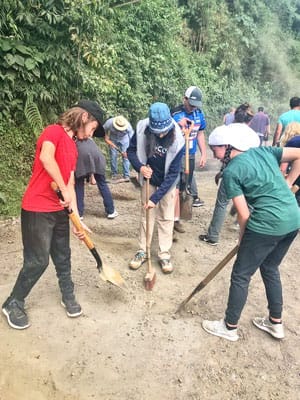 DCSM students filled potholes and graded the land as part of their service-learning trip to Ecuador.

Students arrived in Yunguilla, Ecuador where they worked with the Cloud Village repairing roads and trails of the primitive village. They stayed with host families and dove right into the local culture. Working on various service projects – from filling potholes in the roads to packaging jam sold at local markets, to working in the gardens – student Alexandra Sayeedi felt most at home working in the local gardens.
Sayeedi gardens at her Castle Pines home and immediately felt connected while working away from home. She never realized how differently people in other countries lived. Sayeedi said the countryside was covered with green, and she loved helping the people of Yunguilla. Sayeedi hopes to have more opportunities to help people from other cultures in the future.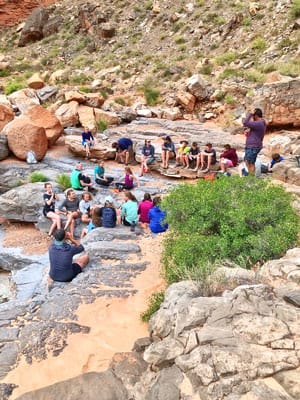 DCSM students gathered to journal following their 80 mile river float down the San Juan River.

Other adventurous students participated in a five day San Juan River trip. They floated 80 miles down the lower San Juan while receiving lessons in river life and the biodiversity of bat populations from Northern Arizona University.
In addition, they spent time with Friends of Cedar Mesa, a non- profit organization that works to ensure the cultural and natural values of San Juan public lands stay protected. The students provided trail construction and protection service so other visitors can enjoy its beauty and history. The end of their trip brought them to Goosenecks State Park where the students not only rebuilt trails but received a lesson on the ancient Puebloan People and ruins. As lessons were learned and service was granted these DCS Montessori students came home tired but carry a lifetime of memories.