Seventy-one mushers, more than 1,000 dogs and one passionate DCS Montessori student
April 1, 2017
/
/
Comments Off

on Seventy-one mushers, more than 1,000 dogs and one passionate DCS Montessori student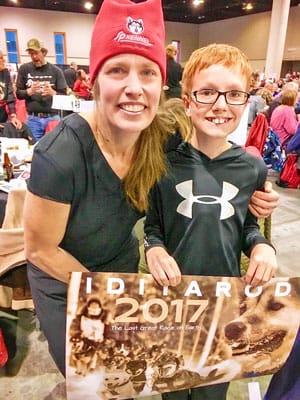 DCSM student Dylan Tilton with 2017 Iditarod musher Aliy Zirkle at the musher's banquet. Tilton's passion for "The Last Great Race" came out of the classroom and into reality with a March trip to the iconic Alaskan dog sled race.

By Lynne Marsala Basche; photo courtesy of DCS Montessori
DCS Montessori (DCSM) student and Castle Pines resident Dylan Tilton has been studying the Iditarod for six years, and in early March, he was excited to travel to Anchorage and Wasilla to see the start of the iconic 2017 dog sled race.
Every year, one of the DCSM primary classes joins an upper elementary class to follow the Iditarod in Alaska. The students partner and choose a musher (the person who drives the dog team). They then research the musher and follow that person as they progress on "The Last Great Race." As part of the project, students incorporate writing (by documenting what they learn), practice math (by calculating the distance between checkpoints and from start to finish), learn about culture (by researching Alaska), and study dogs.
For the past six years, Tilton has studied the Iditarod with Andrea Dreier's class, and he developed a keen interest in the race. Tilton was thrilled to take his learning out of the classroom and have the opportunity to meet the mushers and dogs, attend the musher's banquet and be at the ceremonial start of the race.
"In six years, I have learned so much about the Iditarod, and it felt amazing to finally go and meet the mushers and see the start myself," said Tilton. "I wanted to go because I have studied the Iditarod, and I wanted to be a part of it!"
Dreier said, "This unit is near and dear to our hearts, and for Dylan to get to go experience it first hand was a treat for all of us."