The first family of Happy Canyon
April 1, 2017
/
/
Comments Off

on The first family of Happy Canyon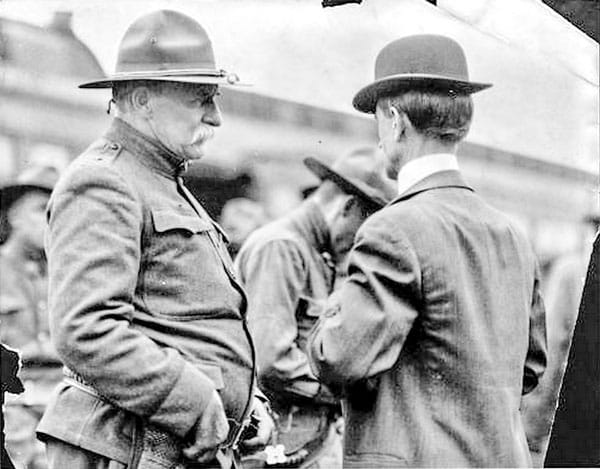 Brigadier General John Chase, Jr. (left), whose family acquired more land in Douglas County than any other. Chase commanded troops under Governor Peabody.

By Joe Gschwendtner; photo courtesy of Douglas County History Research Center
As Douglas County development accelerated in the late 1800s, no family acquired more land through the Homestead Act in our area than the Chase family, headed by John M. Chase, Sr. When the former treasurer of the University of Michigan arrived from Lansing in 1884, he was 79 years old. Although he built a modest cabin near the north end of today's Happy Canyon Road, much of his time was spent at 935 Corona Street in Denver.
When in our neighborhood, Chase Sr. spent much of his outdoor life re-planting the thinned-out Wildcat Mountains with 7,000 blue spruce and white and yellow pines. He also assisted in reforestation with another 10,000 seedlings. In the summer months, his open field (known as Chase's Grove) was made available for the Castle Rock Methodist Church annual picnic (the Castle Pines Golf Club's current tee area for hole #17 on Happy Canyon Road).
Sons John Jr., C. Fred, and Sylvanus had other plans, each staking out separate homesteads. Fred found his site near today's Beverly Hills, contiguous to today's City of Castle Pines. South of Fred's ranch, Sylvanus (Syl) Chase settled in Muddy Hollow, a small valley, roughly located where ongoing construction is underway along the east side of Lagae Road today. John Jr. sited his home on the east side of I-25 near today's Silver Heights Nursing Home and east end of the Castle Rock Parkway.
John Jr.'s talents differed from his ranching brothers. He was an over-reaching ophthalmologist, specializing in disorders of eyes, ears, nose and throat. Of him it was written that he served not only the well-to-do, but often also the poor who would be allowed to pay what they could. Since his practice was located in the Majestic Office Building in downtown Denver, he was likely one of the earliest commuters in the county.
John Jr. had joined the Colorado National Guard as a lieutenant. Making rank quickly, he came to command elements of both artillery and cavalry. When using his father's cabin as a summer home, he would conduct live fire artillery exercises from the Round Top on the east side of the Happy Canyon exit. A favorite target was the abandoned Plateau Quarry down range, towering above his home.
John Jr. was not without controversy. Later, as brigadier general, he commanded troops under Governor Peabody who oversaw peace during mining strikes in Cripple Creek in 1903-1904 and during the Trinidad coal mine strikes through 1916. It was on his watch in 1914 that the bloody Ludlow Massacre was triggered and where machine guns were turned on strikers and their tent camps torched, resulting in the death of 19 strikers, women and children. Mother Jones, a labor leader of the day said of him that "his veins run with ice water." Yet amidst all the mayhem, newspapers would later write that he was "the peer of any citizen in Colorado in honesty and ability."
More to come on the brothers next month …