Sharing a passion for science: RCHS students mentor BRE science club
May 1, 2019
/
/
Comments Off

on Sharing a passion for science: RCHS students mentor BRE science club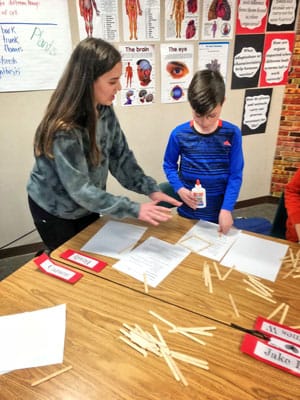 This RCHS SNHS student helped a BRE science club member build a bridge.
By Celeste McNeil; photo courtesy of Delaney Y.
Rock Canyon high school (RCHS) student Delaney Y. has a passion for science. She and her fellow Science National Honor Society (SNHS) members are sharing their love of science with younger students through an elementary school outreach program (see related story page 40).
SNHS student officers contacted their former elementary schools with hopes of establishing an after school science club for fourth and fifth grade students. Michelle Parker, BRE fifth grade teacher, hosts several SNHS members and 30 eager BRE students every other Tuesday.
SNHS officers created several lessons and interactive experiments based on the scientific method, presentations, skeleton notes with key vocabulary, and a discussion about careers corresponding with the science principle for each lesson. Parker has been impressed with the level of thought and effort the SNHS members have put into each lesson. Additionally, BRE students have many opportunities to ask a lot of questions.
Parker likes the fun approach SNHS mentors create. The high school students and their experiments "turns a light switch on [for BRE students] that science is more than reading a textbook; it can be fun." Students have grown crystals, explored aerodynamics and engineering with paper airplanes and bridges, extracted acids and bases from flowers, practiced DNA extraction from strawberries, and will make bath bombs in their final class. Fifth grade student Jake P.'s favorite lesson was making and flying the paper airplanes.
The SNHS purpose includes encouragement of "participation in and recognition of scientific and intellectual thought" Delaney said. Their goal includes fostering interest and dedication of scientific knowledge and benefiting the community. High school outreach to their younger neighbors through the local elementary schools is paramount for fostering community support and cohesion. Parker, delighted with SNHS outreach said, "It's important for linking kids and providing role models. [High school] outreach to feeder schools is so important for community and it gives younger students something to look forward to as they move toward high school." Jake enjoyed the interaction with older students and the role models the SNHS members have become for the BRE science club.
Delaney too, relishes mentoring the BRE students. "I think the most rewarding part of the outreach is seeing the students ask questions. Every one of them is already starting to explore what science can do for them, and we are able to help them understand even more in a fun and exciting way!"