Siblings Rock! campaign paints the town
May 1, 2018
/
/
Comments Off

on Siblings Rock! campaign paints the town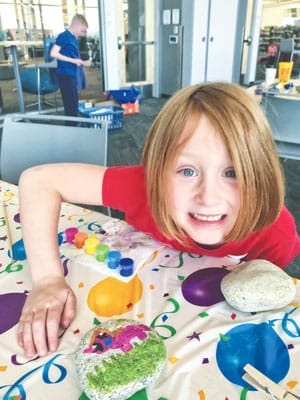 Bent earnestly over her art even as other kids munched pizza, Lilly wrote, "My sister has autism and she loves butterflies. Please don't exclude her." Other sentiments included, "Even if my sister looks different please treat her the same," "Don't make mean faces at kids with special needs," and, "Invite special needs kids to play with you."
Information and photos submitted by Kelly Kinder
You may recall the last time you sat near a special needs child in a restaurant or at a school event. You may have felt compassion, curiosity or a mild discomfort at not knowing exactly what to do or say, or whether it was even appropriate to do or say anything. On April 15, siblings with a special needs brother or sister and their friends painted rocks with pictures and messages to let people know what is so special about special-needs people. They placed rocks in Castle Pines and all around Douglas County to educate residents.
Castle Pines resident Kelly Kinder reached out to several parents of special needs children at a local elementary school for their insight. Kristen, mother of three, has taken a proactive approach to establishing open communication at the elementary school where her 7-year-old, Down syndrome son attends first grade. At the start of each year, Kristen sends a letter "from her son" to the parents in the classroom introducing him and describing his disability. Kristen encourages questions and feels that open communication helps to discourage stigma and reduce awkwardness.
Angela, a single mother of two, one daughter with epilepsy and cerebral palsy, echoed Kristen's attitude regarding communication. Angela recognizes that people have questions and are curious. She says she doesn't mind talking about it at all. Respectfully asked questions are encouraged, even welcomed. Angela's daughter has played soccer and basketball and attends public middle school. At the same time, Angela must give great consideration to the smallest details, like withholding gum from her daughter for risk of choking during a seizure.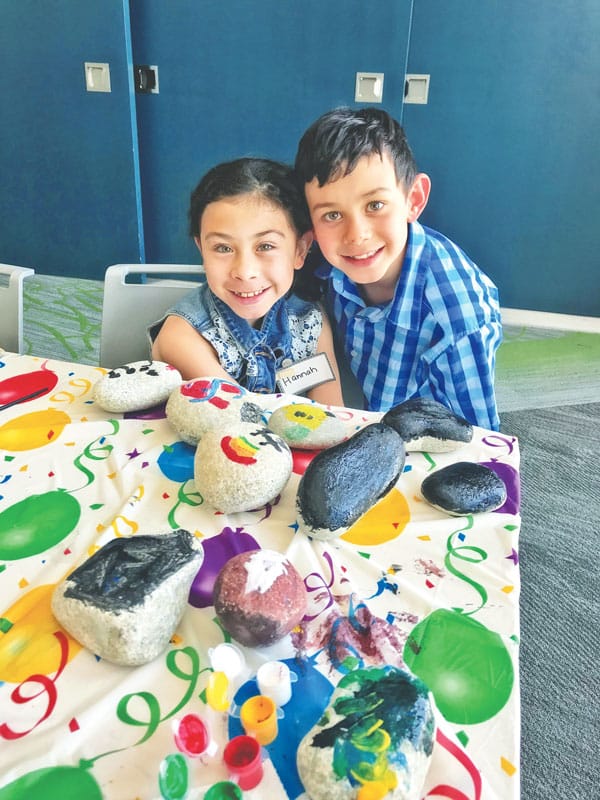 Hannah and Jake Stalls took a moment to pause from their painting to show a little sibling affection.
Perhaps the most reoccurring message from parents with special needs children was that their children feel left out just like typical children, so, "regardless of how many times we decline, never stop inviting us." The families are not looking for special treatment. In fact, parents revealed that at times, friends and strangers can be too accommodating. For example, letting a special needs child go to the front of the line when a parent prefer they wait like the other children. Yet, their unique situations can call for special consideration. For instance, a family of a special needs child might not always be able to participate in the reciprocity of play dates and help with drop-off/pick-up that a typical family can, but might still be appreciative of an unconditional offer of support. One parent suggested, "show up with hot coffee, but respect that we might be too exhausted to chat at length." Above all, remember that people are not defined by a disability. Language matters. A person may have a crippling condition – they are not a cripple. A person may have a disability – they are not disabled.
As with many social issues, change starts with community and education. The April 15 campaign to have siblings with a special needs brother or sister and all their friends paint rocks with pictures and messages was a creative way to engage and educate the community.