The Friday Afternoon Club
May 1, 2018
/
/
Comments Off

on The Friday Afternoon Club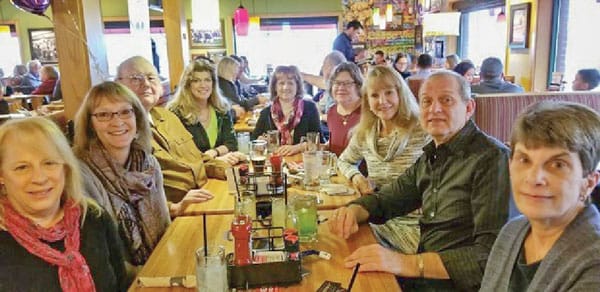 By Daniel Williams; photo courtesy of Barbara Neff
If you happen to be out at one of the local restaurants on a Friday evening around happy hour, do not be surprised if you run across a large group of single baby boomers. They are easy to spot – they will be the folks born between 1946-1964 who have commandeered a captain's table, and they will be laughing, telling stories and having an overall groovy time. They call themselves the Friday Afternoon Club, and they are the brainchild of Castle Pines resident Barbara Neff.
There are many wonderful aspects of living in the 80108 ZIP code, Neff said, but when she got divorced a few years back, she soon realized there were few activities for single empty nesters of a certain age. "My demographic, 60+ empty nesters, many retired and single, are often overlooked," Neff said. "We are here in significant numbers. We are educated, experienced, savvy, fit, active, vital and largely invisible. I intend to make us visible."
When she first became single, Neff did what many newly single people do – she tried the dating sites. "I never had a bad experience, but it was frustrating, and I realized I wanted to find something else. I wanted to find a community, something or someplace where single people my age could get together."
What she wanted, Neff said, was a tribe. "That's why I started the Friday Afternoon Club. I wanted to create this community where single people could get together, both men and women."
Castle Pines resident Bill Shaeffer has been instrumental in helping bring men to the group, Neff said, and that's important. "Women are more comfortable socializing in groups. We get together for everything – from fitness classes to book clubs to the dice game bunco. We love to socialize."
But it's different for men, and the Friday Afternoon Club helps them unwind, said Shaeffer. "Whether you work or are retired, it doesn't matter. This is a great way to decompress from the week and kickoff the weekend."
So far, the club has been a good mix of men, women, working and retired, with anywhere from 12-18 people showing up on a Friday evening. The group has made the rounds in Castle Pines, having met at Las Fajitas, Duke's and Pino's. They have also made the trek down to Applebee's in Castle Rock, "for the $1 margaritas," said Neff.
And Friday afternoons are only the beginning for these ageless kids. Shaeffer said there are plans for hikes, movie nights and "we have even considered potlucks and a game of Twister – something we remember from our childhood."
To learn more about the Friday Afternoon Club, visit www.facebook.com/groups/WordOfMouthcastlepines/.