Sixth graders race to the finish with solar technology at AA
November 1, 2011
/
/
Comments Off

on Sixth graders race to the finish with solar technology at AA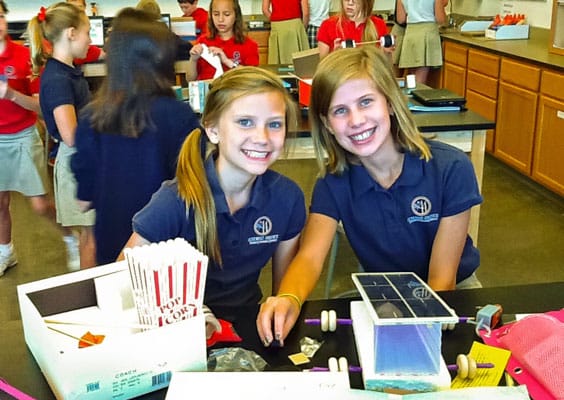 Killian Ridder and Carly Stordahl having fun with constructing their solar contraption.
Article by Kathy Dunker with photos by Leanne Weyman
American Academy (AA) sixth graders have been busy for the last two weeks working on their current Science, Technology, Engineering, and Mathematics (STEM) project, which is the Junior Solar Sprint Car. Applying the engineering design process, student teams designed and and are in the process of building a solar powered vehicle that will complete a 20 meter race in the shortest possible time.
During this unit, the students learned the importance of photovoltaic technology and its role as a viable renewable energy source. Other scientific topics introduced were gear to wheel ratio, friction, basic aerodynamics and vehicle structure.
As Science Department Chair, Warren Aster remarked, "After numerous tests, students had the opportunity to re-design and improve their vehicles for the final time trial. While some students focused on the initial challenge, others have elevated the challenge to include time and mass constraints."
Students are beings exposed to opportunities in the field of technology, engineering, physics, and earth sciences during this project. Sixth grade science teacher, Leanne Weyman, said, "Students are intrinsically motivated by the opportunity to innovate in this real-world scenario. I am excited that my students are able to experience future career opportunities and develop their understanding of scientific inquiry!"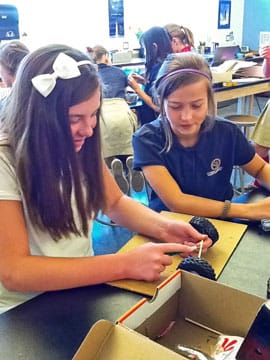 AA sixth graders, Mariah Daley and Katherine Rausch, working on the wheel base for their photovoltaic auto.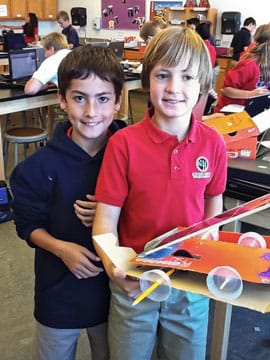 Cardboard, plastic, and pencils come together in Payton McNeill and Ben Herrera's car design.