Donations come pouring in as RHMS students aid flood victims
November 1, 2011
/
/
Comments Off

on Donations come pouring in as RHMS students aid flood victims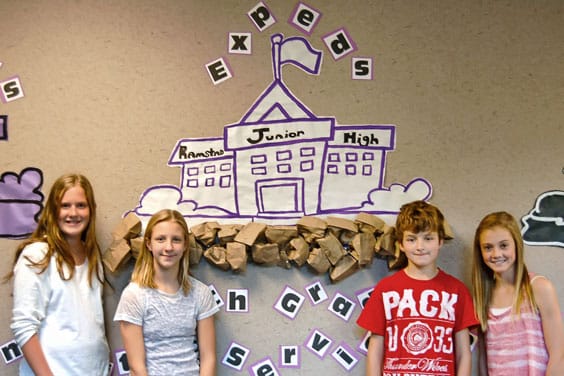 Four 7th grade students from the Expeditioners team brought in the most donations during the Read-a-thon: (l to r) Sarah Elizabeth Falkenstine, Rachel Slavik, Graham Voetberg, and Megan Pitman
Article and photo by Amy Shanahan
The generosity of students and parents at RHMS was evident as the seventh graders made life a little bit better for a school in North Dakota. Every year, the three grade levels at RHMS each choose and implement a community service project.
This year the seventh grade teams held a Read-a-thon the first week of October and collected pledge donations based on the number of pages and chapters read by the students. The money that was raised will be given to Ramstad Junior High in Minot, North Dakota.
Over the summer, the school was devastated by a flood, which completely destroyed the facility. The building, teaching materials, supplies and all hardware and technology were lost. Currently the students are being educated in an auditorium.
The three teams of seventh grade students raised $5,426 and they continue to receive donations. Additionally, Walmart granted them $1,000 to be put towards their cause. The students will decide how to grant the money, and hope to be able to provide the school with technology, lockable backpacks, and much needed school supplies.
The students also wrote pen pal letters to the Ramstad Jr. High students and were able to make one-on-one connections with the students there. "During these struggling economic times throughout our country, I am truly appreciative how our students, parents, and teachers embraced the need for the Ramstad Jr. High students by responding so positively and willingly," remarked seventh grade math teacher Patti Anoff. "It makes me extremely proud to be part of this amazing Rocky Heights community."