SMFRA shifts resources to better serve communities
June 1, 2009
/
/
Comments Off

on SMFRA shifts resources to better serve communities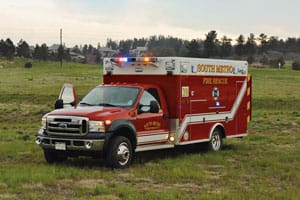 Medic Unit 39 will now be located at Station 39, on Happy Canyon Road in Castle Rock.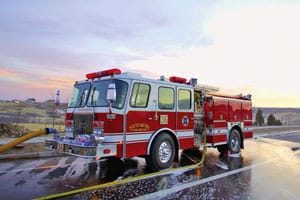 Engine 36 is now staffed with three EMTs and a paramedic trained in advanced life support.
by Terri Wiebold
South Metro Fire Rescue Authority (SMFRA) relocated its Medic Unit from Station 36 in Castle Pines North (CPN) to Station 39 on Happy Canyon Road earlier this month in an effort to operate more efficiently, to reduce costs, and to maintain service in the area in which the calls are being generated, according to SMFRA.
"After further analysis of our service to the Castle Pines area, we have found that we could consolidate resources and provide the same level of service by moving a medic transport unit from Station 36 to Station 39," said Becky O'Guin, community relations director for SMFRA. "In addition, we have added additional staff to Engine 36 that includes a paramedic to maintain advanced life support capability at both stations."
Fire Station 36, located at 421 Castle Pines Parkway, no longer houses a medic unit, but is now home to a "paramedic engine." A paramedic engine is identical to a regular fire engine, except that it is always staffed with at least one state-certified paramedic.
Also on board is a full compliment of paramedic tools and medications, including an advanced cardiac monitor. This means a firefighter/paramedic trained in advanced life support procedures can be on the scene of any emergency in the CPN community in minutes and can begin advanced procedures immediately. Transportation to a hospital, however, occurs only after the ambulance arrives on scene.
The paramedic is assisted by the three firefighter/EMT's (Emergency Medical Technicians) who are also part of the Station 36 team, while an ambulance and additional paramedic help is dispatched and enroute. Advanced life support within the first few minutes of an emergency can be critical for the patient's outcome.
Station 39, located at 475 West Happy Canyon Road, is now home to Medic 39, a medical transport unit staffed with two paramedics.
According to O'Guin, whenever Medic 39 is in service on a call, a medic unit will move up to Station 36 for back up.
For more information about the services provided by SMFRA, visit www.southmetro.org.