Spectacular changes unveiled at the Country Club at Castle Pines
July 1, 2012
/
/
Comments Off

on Spectacular changes unveiled at the Country Club at Castle Pines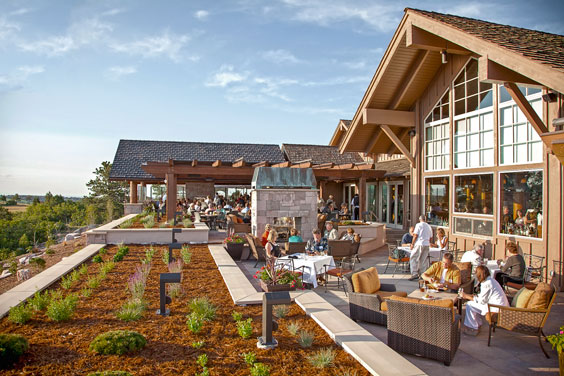 The Country Club at Castle Pines revealed its multi-million dollar renovation and expansion project to guests at an open house on June16. (Photo courtesy of JimmysPhoto.com)
By Amy Shanahan, photos courtesy of Peter Cranstone
The Country Club at Castle Pines (CCCP) is full of new beginnings, and Saturday June 16 was testimony to how impressive and exceptional they are. The evening marked the grand re-opening of this beautiful club, after a multi-million dollar renovation and expansion project.
The project began with a new, tiered 6,000 square foot patio and terrace, which features beautiful fireplaces, pergolas and new comfortable seating. 1,000 square feet was also added to the newly constructed kitchen, and top of the line kitchen equipment was installed.
The interior of the clubhouse was renovated and expanded and now boasts two bar areas, a private room for meetings or special occasions, and several dining areas, including the Jack Nicklaus Signature Room. This dining room features an upscale, private dining experience with a set menu. Executive Chef Bryan Dennis is fairly new to the club and has improved the dining experiences in all dining areas by serving fresh, local cuisine. A new herb garden outside the dining areas provides many of the seasonal herbs and spices.
Other improvements to the club include a newly designed golf bag storage area, and a new golf cart barn with all new electric carts. Brian Nishi was a golf pro at the club and was recently named the director of membership and communications (pictured right). He is thrilled with these changes. "We are now able to accommodate 30 percent more golf bags in the storage area and we have 85 electric carts versus the 50 gas carts we had previously," he remarked. "The electric carts are more efficient and much quieter as well."
A social lawn area for outside events was created and will host many of the social activities during the warm weather months. The social committee has worked diligently to create a host of activities to appeal to all members, including a 4th of July celebration, outdoor movies for kids, a casino night, concerts, and much more.
Aside from all of the physical changes to the country club, a new leadership team has been put in place to lead the club. John Reyhons recently joined the club as the new general manager and chief operating officer. He is excited to be a part of such an exceptional country club. "I have the greatest job in the world! We have terrific members, and beautiful views. This is a very special place."
The CCCP recently changed its policy, and members do not have to live in Castle Pines Village to be members of the club. For golf membership or social membership information, please contact Brian Nishi at 303-660-6807.
To view a complete slide show of the event, go to www.castlepinesconnection.com and click on "Photo Album."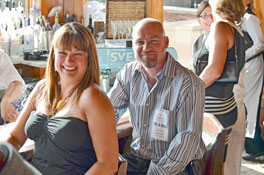 Guests Jennifer and Bill Patterson enjoying the evening.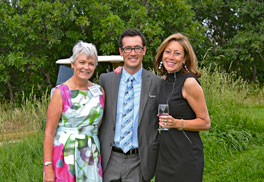 Village Homes Association Board of Directors Secretary Katherine Blakley (left), Director of Membership and Communications Brian Nishi (center), and Castle Pines Connection Sales Manager Cindy Cranstone (right).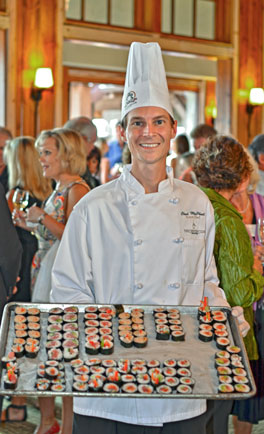 Sous Chef Chad MacPhail serves a tray full of delicious and colorful sushi to club guests.