Rocky Heights Middle School students win art contest
July 1, 2012
/
/
Comments Off

on Rocky Heights Middle School students win art contest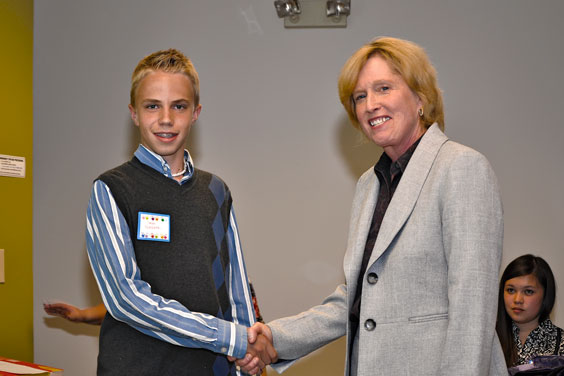 Sean Nasseth received a new lap top computer and was congratulated by the District Attorney, Carol Chambers.
By Amy Shanahan, photos courtesy of the Office of the District Attorney
The District Attorney's office covering Arapahoe, Douglas, Elbert and Lincoln counties recently held its annual art contest for middle school students. Each year, the winning 13 entries are featured in a calendar that the District Attorney's office produces.
This year, 15 schools submitted art work by a total of 1,103 students. Rocky Heights Middle School was thrilled that two of its students were selected as winners. Seventh grade student Hannah Rodriguez won $100 for her entry, and Seventh grade student and Castle Pines Village resident Sean Nasseth was the grand prize winner! Nasseth received a new laptop computer for his efforts.
"I had no expectation of winning anything when I submitted my art work," remarked Nasseth. "I found out in advance that I was one of the top 14 qualifying winners, but never thought I would be the one walking away with the laptop. I was really proud and surprised!"
Nasseth was presented with a cake, which depicted his art, and was awarded the grand prize – his new computer.
The theme of the contest was "Got 2B Safe" and encouraged students to identify the major safety concerns of their age group. Nasseth used colored pencils and oil pastels to create his piece entitled "What you see isn't always what you need to be." The goal of his piece was to let other kids know that it's okay to take a different path than others and to be true to oneself.
Congratulations to both Sean Nasseth and Hannah Rodriguez for artistically identifying what it means to make good choices in middle school.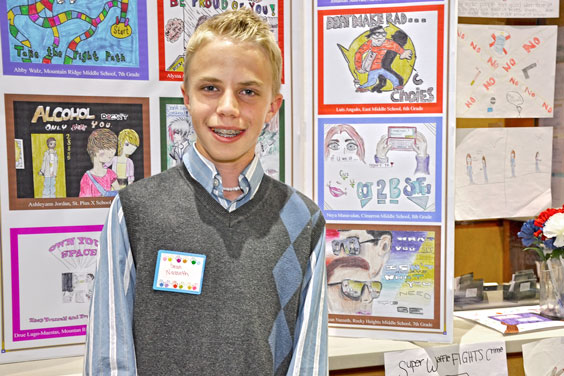 Sean Nasseth is pictured in front of the works of art, which will be featured in the calendar for the District Attorney's office. His piece is displayed to the lower right, off his shoulder.