Student safety is everyone's business
September 1, 2017
/
/
Comments Off

on Student safety is everyone's business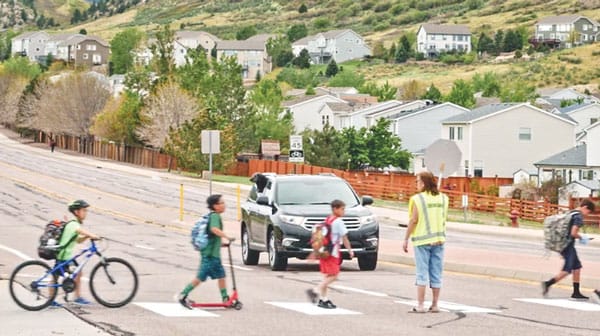 Information provided by Douglas County
More than 67,000 students have returned to school in Douglas County, and whether they walk, bike, skate, or drive to school, it takes everyone, including those driving in the vicinity of schools, to ensure they get there safely.
The Douglas County School District encourages students to walk, bike or bus to school whenever possible, causing less congestion with vehicles, and lessening the chances for accidents in and around school zones.
In an effort to promote safety in school zones, Douglas County traffic engineers have worked closely with the school district and the sheriff's office to ensure that students have safe routes to school and that those preferred routes are marked.
"As a County, we are doing everything we can to try to make these busy areas as safe as possible for our young people," said Douglas County Commissioner and Board Chair Roger Partridge. "And while we ask that students of all ages pay attention for cars while traveling to and from school, we also ask that parents dropping children off at school, and those traveling through school zones, use extreme caution, drive slowly and keep an eye out for children."
Students who walk, bike or skate to school are asked to follow these simple steps: (1) Choose a safe route to head to school with less traffic and intersections, avoid crossing busy or high-speed streets and limit the number of streets crossed; (2) Look for traffic at every driveway and intersection. Be aware of drivers in parked cars that may be getting ready to move; and (3) Obey all traffic signs and signals and wait to walk across the street until no traffic is coming. Listen to crossing guards if present, and walk – don't run, bike or skate across the street.
For more tips, including recommendations for drivers to refrain from double-parking, not pass a vehicle stopped for pedestrians, or not drop children off across the street from the school, visit the www.douglas.co.us and search "School Zones."