Students helping students at Rocky Heights Middle School
June 1, 2014
/
/
Comments Off

on Students helping students at Rocky Heights Middle School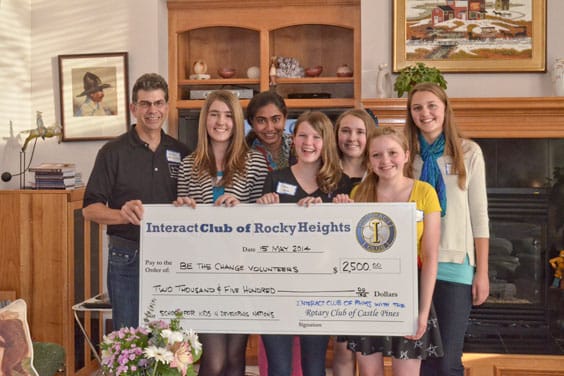 On May 15 the Interact Club presented a check in the amount of $2,500 to Castle Pines Village resident Dr. Brian Van Vechten (left) who represented the "Be the Change" organization. Interact Club Vice President Olivia Voss said, "'Be The Change' is a great organization. It helps build schools in third-world countries, and education is something that I really believe has the power to change the world." Pictured above left to right: Dr. Brian Van Vechten, Haley Mayr, Shreya Nallapati, Olivia Voss, Elizabeth Mayr, Kristen Wylie, and Brynn Peters.

By Amy Shanahan; photo courtesy of Julia Bartmann
The Interact Club of Rocky Heights Middle School (RHMS) has made exceptional strides in growing the club and providing service to both the local and international communities since the club was formed in 2012.
The Interact Club is an arm of Rotary International and is open to students ages 12 to 18. The club works with students to build leadership skills and grow awareness of the larger global community. The club at RHMS is supported by dedicated members of the Castle Pines Rotary Club who meet with the club weekly and support them in all of their efforts.
The club is self-governed by four elected student officers who run the meetings and track club finances. The club works together to choose community projects and set goals for the year. With a theme of "students helping students," the club held two successful community service projects this year. Locally, the club worked with students at Rock Canyon High School to collect personal hygiene items for homeless youth in Douglas County. The project was very successful and the students donated more than 2,200 items to the Douglas County Homeless Education Liaison.
The club was particularly excited and passionate about its international project, which they chose due to the ability to once again benefit students. Club members sold concessions after school functions with a goal of raising money to be given to "Be the Change Volunteers." This amazing foundation works to rebuild and refurbish schools in impoverished countries around the world, and has thus far completed 24 projects. The Interact Club raised a total of $1,300 and the Castle Pines Rotary club contributed an additional $1,200 towards the cause.
Castle Pines Village resident and club vice president Olivia Voss remarked, "I think Interact is a really cool club, because while it's really fun, you're also helping people which is a nice experience. It's especially exciting because it's a mostly student-driven club, so all this money we've raised is what we did, and not what an adult did for us. It's quite empowering, actually."