T-Mobile seeks council approval for new tower near Daniel's Gate
February 1, 2009
/
/
Comments Off

on T-Mobile seeks council approval for new tower near Daniel's Gate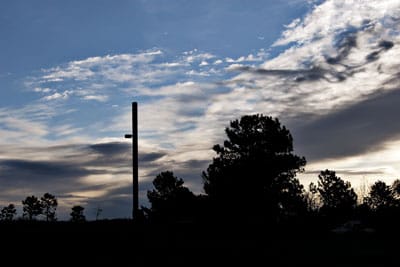 T-mobile Tower at the Ridge

by Lisa Crockett
T-Mobile will soon petition the city council for approval of a new, 45-foot cell phone tower in Daniel's Gate, near the intersection of Daniels Gate Road and Ocaso Drive.
The tower, which will be disguised as a light pole, and an equipment enclosure would be built near an existing pump house structure. The pole itself would be a "dummy" pole – it would not actually function as a street light. The land under consideration is owned by the Castle Pines North (CPN) Metro District. The District has been working with T-Mobile on this project for more than two years.
Since CPN is now a city, installation of cell towers
in open space areas must be approved by the city council.
"As cell phone use increases, we are finding that more and more people are turning off their land lines and using their cell phones exclusively. Because of this increase in use, previous tower coverage simply isn't sufficient. Where one or two towers used to cover a whole city, now a tower will often only serve one or two subdivisions," said Matt Butler, a project manager for Technology Associates, who is handling the project for T-Mobile.
Butler met with CPN residents from Ward 1 in January to get their input on the project. (Ward 1 city council representatives Chris Dooley and Jennifer Havercroft were not in attendance at the meeting since they will vote on this issue.) Several residents asked about lowering the height of the pole to 35 feet (the height of existing light poles in the area), or moving the pole to a different location, possibly atop the Daniel's Gate Clubhouse.
According to Butler, lowering the height of the pole is problematic because of CPN's topography; a lower pole height means diminished coverage. As for changing the location, Butler said that T-Mobile is unlikely to move the tower site for financial reasons.
"When we started this process with Douglas County, the clubhouse was ruled out because it violates the open space rules of the county. Now instead of the County we are working with the City, but T-Mobile has invested money in planning for this specific site," said Butler.
T-Mobile currently has two towers in CPN, one at the Community Center (disguised as a flagpole) and one in the parking lot at the Ridge Golf Course. Coverage for many cell carriers is spotty in the northern half of the city. A Nextel tower was constructed at the Xcel substation north of Daniels Gate on Monarch Boulevard, but Xcel is no longer allowing cell towers to be built at that site, and other possible sites along the power line corridor are unsuitable for various reasons.
"I know nobody wants a cell tower in their neighborhood, but this community is under served," said CPN Resident and Master Association Board Member Jeff Huff at the January meeting. "We need to be careful about where and how they are built, but we need them." Huff sited spotty coverage along Monarch Boulevard and in Coyote Ridge park as not merely inconvenient, but unsafe.
"I recently witnessed an accident on Monarch and tried to call 911 on my cell phone and didn't have any service," said Huff.
Residents also asked about the possibility of adding carriers to the T-Mobile tower. While it would be possible for other carriers to operate out of the same location as T-Mobile, that would mean a wider tower with more visual impact. There are no plans for another carrier to use the proposed T-Mobile site at this time. If the city approves the T-Mobile tower, it is likely that in order to remain competitive other carriers will seek city approval to add service to the northern portion of the city.
As the property owner, the CPN Metro District would generate approximately $1,800 per month from this cell phone tower lease, if approved by the city council.
"The Metro District puts revenue from cell phone tower leases into our operations budget to help keep rates down," said Jim McGrady, District Manager. McGrady said the District makes approximately $100,000 per year from cell phone leases which represent five percent of the District's total water revenue.
"The bottom line is that if the city council shuts the door on this, it will be a long time before there is adequate cell phone coverage on the northern end of the District and on Monarch Boulevard between Castle Pines North and Highlands Ranch," said McGrady. "T-Mobile has spent two to three years of time and research to make sure this is the right spot for a new tower."
As of press time, a date had not been set for the public hearing with the city council regarding this matter. Visit www.cpngov.com for more information or to contact respective city council representatives for comment.