Take a ride on the wild side with new book from local author
October 1, 2012
/
/
Comments Off

on Take a ride on the wild side with new book from local author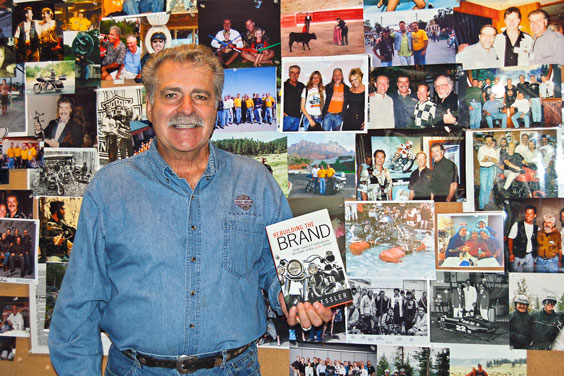 Clyde Fessler's home office in Castle Pines Village is decorated with Harley-Davidson memorabilia, and features a wall of photos which tell the story of a fascinating and exciting life. Being an author is his latest accomplishment.
By Amy Shanahan, photo by Amy Shanahan and courtesy of Clyde Fessler
"We fulfill dreams" is a mission statement of Harley-Davidson, and Castle Pines Village resident Clyde Fessler has certainly done much to fulfill his own dreams. Fessler, who held many positions before becoming vice president of business development for Harley-Davidson in the 1980's and 90's, took one of the most significant of his life experiences and turned it into a book, which is both educational and entertaining. "Rebuilding the Brand: How Harley-Davidson Became King of the Road" is a firsthand account of how Harley-Davidson brought itself from the verge of bankruptcy in the early 1980's to the iconic image and brand that is Harley-Davidson today.
Fessler began working for Harley-Davidson at a time when the brand solely represented hard-core motorcycle enthusiasts. During the 25 years that he worked for the company, Fessler was instrumental in changing the perception of the Harley-Davidson brand to include the original customer base, along with weekend riders, women, and families.
Fessler and his team worked under the method-ology of "turning left" when the competition turned right. "It's always been part of my philosophy to turn negatives into positives," Fessler stated. Fessler identified the customer of the future by recognizing the barriers to entry and solving them. Fessler and his team made the Harley-Davidson brand more accessible by creating venues and meeting the needs of future customers. The company created a motorcycle club, The Harley Owner's Group, or "HOG", they held their own family-friendly rallies throughout the country, they created a clothing and accessory line for women, established Harley rental programs, and answered safety concerns by starting the "Rider's Edge" program in which local dealers hold motorcycle riding classes.
Not only did Fessler and his team identify and appeal to a new customer base, they also worked extensively with their dealers to remodel and merchandise the stores. Additionally, Harley-Davidson teamed up with the Muscular Dystrophy Association (MDA) on a national basis. Since this partnership, the community of Harley riders has donated close to $80 million to the MDA.
Fessler began collecting material for his book at the beginning of his tenure at Harley- Davidson. "I kept every memo I ever wrote at Harley-Davidson, and took notes for the book and filed them for over 20 years." Fessler was approached by a publisher, and his good friend Rob Grede assisted him in the composition of the book. Fessler spent nine months writing his story at his home in Castle Pines Village, and the book was published this past August.
All proceeds from the sale of the book will go to the MDA national fund, and also to The Children's Hospital of South Dakota. Fessler's book is ideal for marketing students or anyone who is interested in learning his methods for turning a brand around, as his strategies can be duplicated in any industry.
The book is available on Amazon and at Barnes and Noble. For more information, visit www.ClydeFessler.com.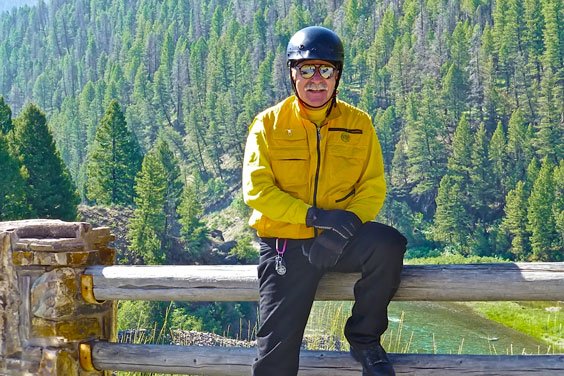 Clyde Fessler owns several custom motorcycles and enjoys riding all over Colorado. "Colorado has the best motorcycle riding in the world. It's a biker friendly state, and eight biker bars surround the city."