Talented Teens of Castle Pines Spotlight: Emma Spears – DCYO Student composer in residence
August 1, 2018
/
/
Comments Off

on Talented Teens of Castle Pines Spotlight: Emma Spears – DCYO Student composer in residence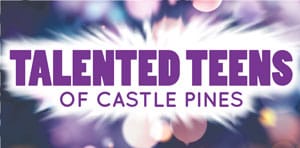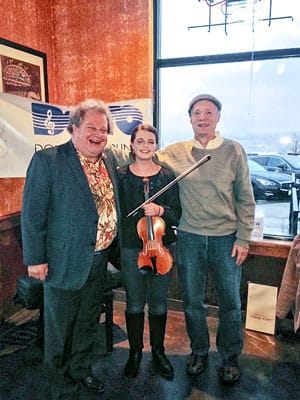 Pictured left: Director Thomas A. Blomster (left), DCYO Student Composer in Residence Emma Spears (center) and composer and former Colorado Chamber Orchestra President DR. C. Howard Treibitz.
By Catalin Varela; photo courtesy of Mary Carter
Since she was a little girl, Emma Spears has always been fascinated with music in many different capacities. She took up violin in fourth grade and has since learned how to play the viola, piano and cello. When asked what instrument she enjoys the most, Spears excitedly mentioned that she loves violin because it often gets to play the best parts of the music. Spears also invests her time in vocal lessons and she now has the honor of being the Student Composer in Residence with the Douglas County Youth Orchestra (DCYO) at the young age of 14. Spears says she made the leap from playing to composing one day when she had a tune in her head and decided to write it out and see what happened. She later showed her composition to the director of the DCYO who took her under his wing and helped her learn more about composing after practice everyday.
Spears is so dedicated to her music, it is like a part-time job with 15-20 hours a week invested in instrument lessons, vocal coaching and music theory and composition. Spears said "My hardest challenge as a composer is time limits. Sometimes I just don't have any good ideas! The biggest reward is getting my music played." When asked about Emma's music career, her mother, Camille Spears, said "It has been pretty mind blowing, she has just impressed us with raw talent. We consider it a gift we have to nurture and I'm learning as I go, too. It is busy!"
When asked about her goals for her music career, Spears mentioned that she would love to compose scores for movies. She said she loves the scores of John Williams, who has composed the music for many epic sci-fi films such as "Star Wars," "Jaws," "E.T." and the Harry Potter films.
Spears would like to thank Thomas Blomster for recognizing her talent and Howard Treibitz for allowing her the opportunity to compose for the DCYO.
Looking toward the future, Spears is excited to work with the orchestra at Castle View High School and is excited to accept a position with the Denver Young Artists Orchestra. At a young age, Spears knows what she wants and she is putting in the work to make her dreams come true.