August 1, 2018
/
/
Comments Off

on The need for speed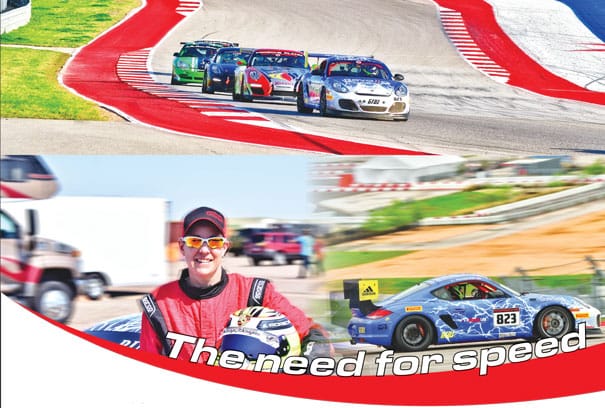 By Elise Brassell; photos courtesy of Lisa Hunsicker
Next time you're stuck in a line of cars driving 35 mph on Monarch, know you're not the only one wishing you could go faster. For Lisa Hunsicker of Castle Pines, going faster is what it's all about – she drives speeds up to 140 mph in a high-performance 3.4-liter, 320 horsepower Porsche Cayman for fun and competition, but mostly, to fulfill her need for speed.
Hunsicker, a competitive Porsche Club Racing driver, competes in driving races across the country. She began racing with the Porsche Club of America, which includes more than 2,000 licensed racers, and after a few years she knew she had discovered her passion and began her own racing business, Rocky Mountain Racing Group.
In July, she placed first in two regional races and took third place with half a lap to go in the national competition during the Sports Car Club of America Freedom Sprints.
The experience of competing in Porsche races varies depending on the type of race. During a typical race, called a sprint, Hunsicker can be driving against 20 to 50 cars for about 20 to 30 minutes. Longer races, called endurance races, can include 60 to 70 cars and last for several hours, even overnight across multiple days. During endurance races, up to four drivers can switch out, requiring the group to set their strategy as a team.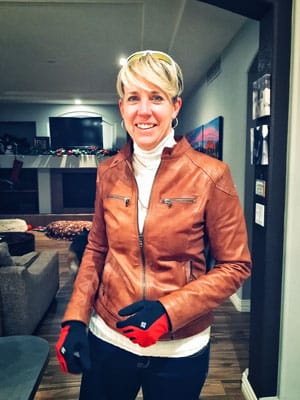 In 2012, Lisa Hunsicker bought her first Porsche and by 2014, she qualified for competitive Club Racing. "I'm making it up as I go, each race is more fun, so I keep driving faster," she said.
For both sprints and endurance races, a pace car leads the racers through a rolling start where they drive slowly from side to side to warm up the tires and the engine over one lap of the track. The driver with the fastest time during qualifying gets the coveted pole position (inside, front row) to start the race. During the rolling start, as the racers round the last turn, everyone is waiting to see a green flag waving, signaling the start of the race. Anticipation is high, there are typically two cars sharing the same lane waiting for the green, but knowing if they start too soon, they will be disqualified. Often, the racer's crew calls out "green!" and a field of cars takes off racing.
"The first turn is frightening, because you get three cars across the lane and everyone is jumping for position in a short period of time," Hunsicker said.
The most crashes happen during this initial jockeying for position, and safety is a huge focus for the drivers and their teams. While the safety of the drivers is top priority, keeping the cars in perfect racing shape is also a big focus, and also one of the biggest challenges to finishing strong in a race.
"There's a saying in racing that you can't win if you don't finish. Half of racing is making it across the finish line. Cars break. You have to anticipate what's coming. You're always trying to come up with solutions and always under a time gun. You're pushing these cars to the limit. High temperature, high speed, intense braking. It's really hard on the car," she said.
Hunsicker once went through four radiators in less than a year, taking punctures and damage from environmental hazards such as a rock, a bird and a raccoon!
The first car she ever drove was a Chevrolet Caprice Classic, her father's, as a teen growing up in Fort Lauderdale, Florida. It was part of the city's culture to "cruise the strip" to see the cool cars, hear their engines roar and sometimes race head-to-head down the road. Hunsicker first discovered her need for speed when she saw a car of male teenage drivers revving their engine and showing off to the other drivers. She knew then that she wanted to race them and win. It didn't turn out quite like she imagined, however — she knew from watching TV that she needed to downshift to break away, She revved the Caprice, took off, and accidentally dropped it into first gear!
Driving around town today, Hunsicker is a loyal Porsche driver; her daily car is a Porsche 911 Twin Turbo with 480 horsepower and a manual transmission.
When talking about her Porsches, she helped solve the debate once and for all — is it pronounced "Porsche" or "Porsha?" "Porsche is a two-syllable word," she said.
Hunsicker can most often be found competing at High Plains Raceway in Byers, but competitions have taken her across Colorado and to other states such as Texas, California, Nebraska and Oklahoma. Her next race is at High Plains Raceway in Byers, September 16-17, during the Porsche Club of America Rocky Mountain Region annual club race, which the public is welcome to attend.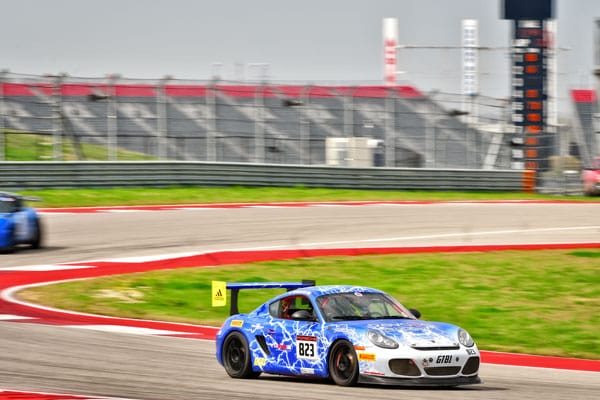 Hunsicker grew up during a time when the cars featured in TV shows such as "The Dukes of Hazzard" and "Knight Rider" were perhaps more famous than their human drivers. "Pretty much anything that had cars was really cool," she recalled. Perhaps these shows helped spark her need for speed, which continues even today.