Tenacious Cate Papula transitions to her next phase in life
August 1, 2019
/
/
Comments Off

on Tenacious Cate Papula transitions to her next phase in life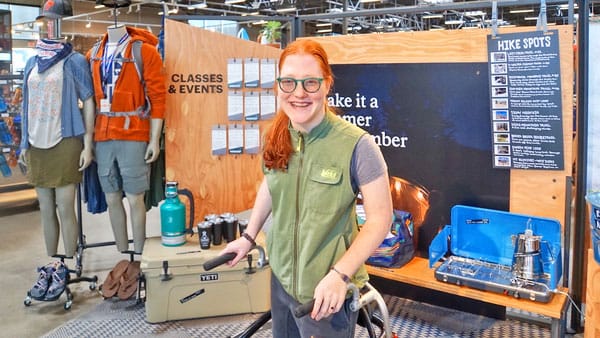 Cate Papula (pictured above) with her smiling face is the first and last person to greet customers at the REI located in Greenwood Village. Papula was hired as a greeter as part of a partnership between REI and the Division of Vocational Rehabilitation.
Article and photo by Carin R. Kirkegaard
Cate Papula has had quite a year for a young woman striking out on her own. Papula was accepted to attend Bethany College in Kansas to study English and creative writing. Following her graduation from Castle View High School and after countless job applications and numerous interviews at a variety of companies, she landed her first job at the REI CO-OP in Greenwood Village.
Jay Burchyett, manager of the REI store, decided that REI's mission of the outdoors for all should also include a space for all in the workforce. Burchyett built on the company's policy of inclusivity and partnered with the local Division of Vocational Rehabilitation (DVR) to create a jobs program for people with disabilities at REI.
Papula was eligible for this program through a transition service offered by DVR in the Douglas County School District. Papula spent months working with her job coach, applying and interviewing for numerous positions, but never getting the offer. She persisted in spite of the letdowns and applied, interviewed and was offered the position of REI greeter. Papula is learning valuable skills in her summer job and saving money for college.
These events are typical steps for a high school graduate. Papula however, has an added layer of challenges. Born prematurely at 24 weeks, she lives with cerebral palsy. Her disability affects the nerves in her brain, preventing the right signals from being sent to her muscles which are always tense and stiff.
From birth, Papula had to fight. At age 13 she had surgery untwisting her femur bones, stretching her muscles and moving her knee caps down. Her seventh grade year was spent in a wheelchair. When she wasn't at school, she would be in a constant passive motion machine which would bend her knees for her. After this surgery, Papula had to relearn to walk.
Now, a true testament to her tenacity, Papula refuses to use a wheelchair, opting instead to use her walker or a cane when she needs assistance. "I have mobility. I can use my legs. I don't want to lose my ability to walk," said Papula.
Graduating, getting accepted into her first choice for college and landing her job at REI are rewards reaped from Papula's hard work and persistence in moving forward toward success.