The trip of a lifetime exploring history and heritage
August 1, 2019
/
/
Comments Off

on The trip of a lifetime exploring history and heritage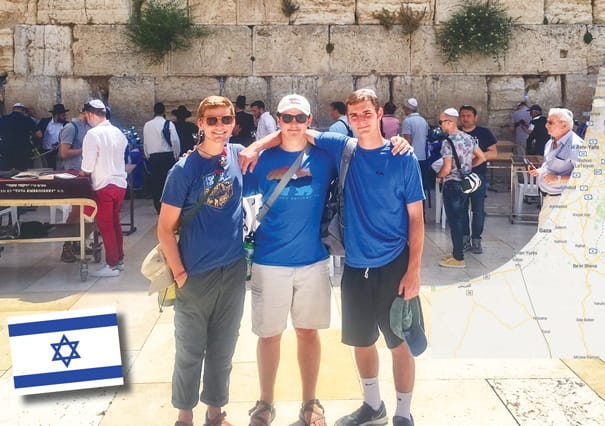 Residents from 80108 (pictured from left to right) Alex Bochner, Nash Bochner and Brad Hansen had an amazing and free Birthright trip this year to Israel and the surrounding areas. The Western Wall (Kotel) in Jerusalem pictured here is a very significant sight for Jewish people as the last remnant of their ancient temple. People come here to pray and also to write notes to God which are placed between the stones of the wall.


By Kathy Fallert; photos courtesy of Biz Hansen
Taglit is the Hebrew word for discovery. Taglit-Birthright Israel, also known as Birthright, is a not-for-profit educational organization that sponsors free 10-day heritage trips to Israel for young adults of Jewish heritage, ages 18-25. At the end of spring, six graduates of Rock Canyon High School (RCHS) took their opportunity to explore Israel and its surroundings.
From May 27 to June 6, Brad Hansen (18) from The Village at Castle Pines, Nash (20) and Alex (22) Bochner from the City of Castle Pines, along with Kyle Weintraub, Payton Berman and Donny Berman joined 34 other participants from all over the U.S. along with two American trip leaders and an Israeli guide. Eight Israel Defense Force soldiers also joined the group for five days of the trip.
The journey included rappelling, hiking, riding camels, and kayaking down the Jordan River, with stops at HaGoshrim, Israel, the Dead Sea and Jaffa as well as overnights in Tel Aviv, Jerusalem, the Judean Desert and the Negev Desert. One of the experiences was a 40-minute walk through a very narrow and very dark ancient aqueduct in the City of David.
The group learned about the Jewish religious law of Shabbat which is observed in Israel from a few minutes before sunset on Friday evening until the appearance of three stars in the sky on Saturday night. No public transportation runs during Shabbat, and there is a focus on relaxation and spending time without technology or work.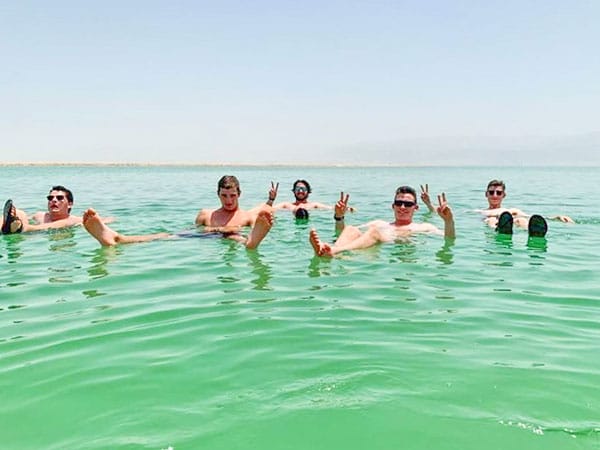 Defying gravity due to the high salt content in the Dead Sea while exploring their Jewish heritage are (pictured left to right): Nash Bochner (CP), Brad Hansen (CPV), Max Tucker, Simon Mendenhall and Donny Berman.

The young men continued beyond the 10 days of Birthright for extension trips. Hansen spent five additional nights in Eilat at the southeast tip of Israel, and the Bochner brothers spent five days on the Sea to Sea hike (from the Sea of Galilee to the Mediterranean Sea). Alex recalled, "The most remarkable thing was hiking a trail that Israelis have been hiking for over 2,000 years. I got an ancestral vibe as we were moving by foot from the Mediterranean Sea to the Sea of Galilee and connecting those water sources and all the history of life in between them."
Brad added, "I chose the retreat to Eilat. Personally, going down to the desert was extremely cleansing for my soul. The desert has a profound awesomeness that is hard to find other places in nature. One of the mornings we woke around 3 a.m. to watch the sun rise over the Red Sea. From the top of this mountain you could see Egypt, Jordan and Saudia Arabia. Truly remarkable."
Alex concluded, "This trip had a profound impact on me as Israel is the first place where I didn't have to explain who I am or what I have experienced as a Jew. I felt an overwhelming sense of being understood and fully accepted and welcomed, which was such a relief. I never felt that connection growing up and physically being in Israel helped me feel that. Birthright is a gift and I would highly recommend anyone eligible to receive it to jump in and enjoy the ride."