The Bibliophile's Corner: Next Time I See You
August 1, 2019
/
/
Comments Off

on The Bibliophile's Corner: Next Time I See You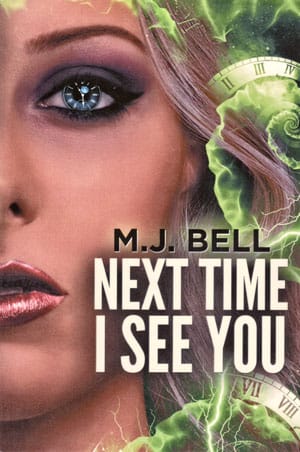 By Susan Helton
Connection writer Susan Helton is an avid reader; she once read 64 books during the summer – just because. This month, she shares a contemporary time-travel novel.
I recently attended Denver Pop Culture Con and naturally gravitated to the booksellers in the show floor area. One of the books that caught my eye – and came home with me – was Next Time I See You by M.J. Bell, a sweet time-travel story with elements of romance and suspense.
Next Time I See You tells the story of college student Kat Chambers whose charmed existence has been shattered by the senseless murder of the love of her life. As the book opens, Kat struggles with complicated grief over her fiancé's death and is unable to get her life put back together, even more than a year after the tragedy.
A chance encounter with an intriguing stranger leads Kat to discover the means and method of actual time travel. Kat believes this is the universe telling her that she is meant to go back in time and prevent the mass murder that claimed her fiancé's life and the lives of several others. But once she arrives in the past, it seems the universe might have other plans for her.
The time-travel science as discussed in the story – the theories of how it would work and possible effects – all sounded very credible and not at all far-fetched. The story considers the question of whether events are fated and builds suspense around an answer. Bell added more suspense, too, around whether Kat could accomplish what she set out to do. That kept me glued to the pages! I found Kat believable and cheered her on through the many dilemmas she faced.
I liked the pleasant conversational style that Bell used to tell the story. The parts of the story that take place in the present are from Kat's perspective and are written in first person, drawing the reader in close to her depression and feelings of being lost and disconnected. When Kat is in the past, the narration changes to third person to bring in another perspective. At first, I found the change of perspective jarring, but as I continued to read, I better appreciated how it enhanced the story.
With several surprise twists, the story reached a very satisfying ending. I genuinely enjoyed this book and I anticipate that fans of suspenseful, romance-touched time-travel stories will as well.

Want to share a great book you have read?
Please email shelton@castlepinesconnection.com.