The Bibliophile's Corner: Shepherdess of Elk River Valley By Susan Helton
July 1, 2019
/
/
Comments Off

on The Bibliophile's Corner: Shepherdess of Elk River Valley By Susan Helton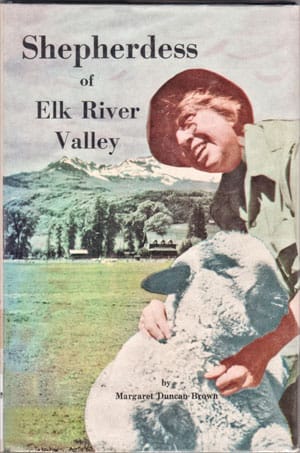 By Susan Helton
The Connection writer Susan Helton is an avid reader; as a teen, she once read 64 books during summer break – just to see if she could. This month, she shares a charming book by and about a woman rancher in Colorado.
Taken from her diaries, Shepherdess of Elk River Valley by Margaret Duncan Brown tells the tale of her life in Colorado. Margaret was originally from "a small town in the south" as she described it. The third child of a medical doctor, she finished high school at 16 and obtained a teaching certificate. In 1900, she married Thornton Brown – "Dick" as she called him. "The only sweetheart I ever had," Margaret wrote.
For 15 years, the couple lived in Cripple Creek, Colorado. "A full and happy life," Margaret wrote. But she longed for more time for contemplation and study, and Dick was tired of indoor office life and the duties of bank management. They talked about getting a ranch. In her diary in 1915, Margaret wrote, "My dream is to have a ranch, a life of peace and plenty, with considerable leisure, time to read, think and commune with nature." This marks the beginning of the main story of the book.
After a lot of searching, Margaret and Dick bought a ranch in northwestern Colorado, 160 acres in the Elk River Valley of Routt County. They quickly found that their new life was quite different from what they had imagined, and only Dick had any prior experience in ranch work. Then in 1918, Dick died suddenly. Margaret stayed on and ranched alone for 47 more years, eventually expanding her ranch to 713 acres.
Margaret shares anecdotes about her difficulties and triumphs, but she mainly tells her uplifting story through her musings about events. Interspersed with these, she writes fantastic descriptions of nature, words of wisdom, and many reflections on life, human nature, and her favorite books.
I found this book a pleasure to read, a calm, peaceful sort of inspiration. Margaret's writing flows beautifully and her descriptions of the world around her are so vivid that I could picture the places perfectly. She is adept at saying things we all know but have trouble articulating sometimes. I particularly liked Margaret's resolutions for 1919, including "To appreciate everything that holds the smallest bit of joy."
The book is short – only 127 pages – but it left me with a wonderful sense of serenity and the possibilities of life, no matter the hardships. Shepherdess of Elk River Valley is an engaging, inspirational read.
Want to share a great book you have read?
Please email shelton@castlepinesconnection.com.